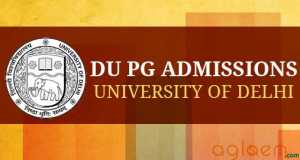 Delhi University (DU) Postgraduate (PG) 2017 Admission details have been announced. Notification for DU PG Admission 2017 indicates about availability of DU PG Admission Form 2017. Eligible candidates can submit application form and timely download admit card of DU PG Admission 2017. There will be DU PG 2017 Entrance Exam for B.P.E.D, LLB, M.Com, M.Ed., M.Tech, B.El.Ed, B.Ed, M.C.A, M.Sc., MA, M.Phil, B.P.E.D, M.P.Ed, Ph.D. After exam, Delhi University will announce result. Get here complete details of DU PG Admission 2017 including notification, dates, application form, admit card, result.
Notification DU PG Admission 2017 – University of Delhi has informed about PG admissions through a notification dated 13 May 2017. According to that, the application form for DU PG admission will be released on 31 May 2017. The PG admission in the University of Delhi will be granted on the basis of Merit or Entrance Test. As per last year's brochure, merit based admission is only for existing students of the university. 

DU PG 2017 Syllabus
The syllabus for the entrance examination of each postgraduate course is the corresponding B.A. / B.Com / B.Sc. (or equivalent) syllabus of the University of Delhi or/and given on the respective Department's website. (this information is as per last year's brochure.)
DU PG Admission 2017
DU PG Admission 2017 Important Dates
The dates for DU PG Admission 2017 will be announced with release of the information brochure. The table below will be updated as soon as it will be released. Until then, the candidates may check the tentative duration for events of DU Admission.
| Event | Important Dates |
| --- | --- |
| Online registration will begin from | 31 May 2017 |
| Last date to submit the form is | Jun 2017 |
| DU PG Entrance Exam will be held in | Jun 2017 |
| Result will be announced on | Jun 2017 |
| Last date to deposit the admission fee | Jul 2017 |
| Classes will commence from | Jul 2017 |
Quick Links
Insofar, only date of availability of admission forms is available. Other information on this page about DU PG Admission 2017 is as per last year's brochure. This will be updated as soon as DU PG Admission 2017 Information Brochure is released.
DU PG 2017 – Mode of Admission
The admission in the postgraduate courses will be granted through two mode. These mode are explained below but the candidates should note that these are not applicable for inter-disciplinary or professional courses.
Mode-1-Merit Based: This is a direct admission medium. As per it, the candidates will be granted admission on the basis of their merit. 50% of seats will be filled through this medium but only with the students from University of Delhi. For outside university candidates this mode is not applicable.
Mode-2-DU Entrance Exam: The University will also conduct the entrance exam to fill seats in PG courses. It will be held to fill the remaining 50% seats. Admission through this medium will only be granted if the candidates will qualify the entrance and perform well in Interview/Group Discussion round as well.
DU PG 2017 Admission – Eligibility Criteria
Age Limit: The University does not prescribe any age limit for the admission in PG courses. However, candidates will have to fulfill the age criteria as laid by MCI, AICTE, BCI, NCTE, DCI, etc to receive admission in respective courses.
Education Qualification: To receive admission in a course, candidates must have had graduation Degree in specified specialization.
DU PG 2017 – Application Form
The application form for DU PG 2017 will release in the month of May 2017. The form will only be released online and candidates will be able to submit it from the official website, www.du.ac.in.
To apply successfully, the candidates will have to submit personal, educational and other details. The requisite amount of fee is also to be submitted with the form. The mode payment will be online only. The candidate will also have choose the mode of admission during the form filling. They may choose for any of the following:
Merit Based
Entrance Exam Based
Merit + Entrance Exam Based
DU PG Admission 2017 – Reservation Criteria

The reservation under each course of DU PG 2017 will be as below:
Scheduled Caste (SC) – 15%
Scheduled Tribe (ST) – 7 ½ %
Other Backward Classes (OBC) – 27%
DU PG Admission 2017 – Faculties & Courses Offered
Name of the Faculty
Name of the Courses
Arts
M.A. – Arabic, Buddhist Studies, English, German, Hispanic, Italian, French, Hindi, Library & Information Science*, Linguistics, Bengali, Tamil, Comparative Indian Literature, Persian, Philosophy, Psychology, Applied Psychology, Punjabi, Sanskrit, Urdu
Applied Social Sciences and Humanities
M.A. – Russian Studies
Commerce and Business Studies
M.Com.
Education
B.Ed., -B.Ed. (Special Education- Mental Retardation), B.Ed. (Special Education- Visual Impairment), Master of Education (M.Ed.)
Inter-Disciplinary & Applied Sciences
M.Sc. – Genetics, Bio-Chemistry, Plant Molecular Biology & Biotechnology, Electronics, Microbiology, Informatics and Master of Physical Education Bachelor of Physical Education, M.Tech- Microwave Electronics
Law
LL.B., LL.M.
Music & Fine Arts
M.A – Hindustani Music (Vocal/Instrumental), Karnataka Music, Percussion Music (Tabla/Pakhawaj)
Mathematical Sciences
M.A.- Mathematics, Statistics, Applied Operational Research, M.Sc. – Mathematics, Operational Research, Statistics, Applied Operational Research, Computer Science, MCA**
Social Sciences
M.A.- Life Long Learning & Extension, Political Science, History, Economics, Sociology, Geography, Social Work, East Asian Studies, Japanese
Science
M.A- Environmental Studies M.Sc. Anthropology, Botany, Physics, Chemistry, Forensic Science, Geology, Zoology, Environmental Studies, Fabric & Apparel Science, Food & Nutrition, Human Development & Childhood Studies, Development Communication & Extension, Resource Management & Design Application.
M.Sc -in Biomedical Sciences and M.Sc.- Ph.D. combined degree are Common entrance test course in Biomedical Sciences
 Cluster Innovation Centre
Master of Mathematics Education (Meta University)
Students may leave their queries in the comment section below.
All Delhi University Admissions
Discussion - If you have any query / feedback comment here.