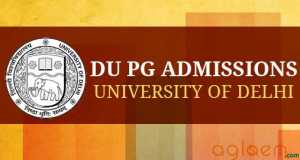 University of Delhi has released notification from the eligible candidates to admission into Post Graduate (PG) / Masters Courses for the academic year 2016-17. Candidates desirous of taking admission in PG / Masters courses in University of Delhi need to apply for the respective courses within the stipulated dates. Get here complete details regarding DU PG Admission 2016 such as application process, eligibility criteria, fee structure and so on.
DU PG Admission 2016
The University of Delhi has decided to invite Online Applications for registration for admission to all seats available for PG courses for this session. There will be online registration only for PG admissions to facilitate easy access to students from all over the country and abroad. For the first time provisions have also been made to conduct entrance examinations based on Multiple Choice Questions at six centres spread across the country viz. Bengaluru, Nagpur, Delhi, Jammu, Varanasi & Kolkata.
The admission seekers to the Post Graduate courses will be able to access all necessary documents and information like admit card, centre allocation, entrance results, venue of group discussion and interviews, if any, electronically through online medium.
Important Dates
| Event | Dates |
| --- | --- |
| Start date for online Registration | 28 Apr 2016 |
| Closing date for online Registration | 24 May 2016 |
| Date for Re- opening Online Registration | 25 May 2016 |
| Closing date for Re- opened Online Registration | 30 May 2016 |
| Dates for the conduct of the Entrance Examinations | 19 Jun – 23 Jun 2016 |
| Announcement of Results of Entrance Examinations | On or before 04 Jul 2016 |
| Date to deposit Admission fee (for Shortlisted candidates) | On or before 18 Jul 2016 |
| Commencement of classes | 20 Jul 2016 |
Entrance Exam Schedule
Tentative Schedule of Entrance Examination for UG and PG entrance based courses is given below.
Date
08:00 AM – 10:00 AM
12:00 PM – 02:00 PM
04:00 PM – 06:00 PM
19.06.2016
(Sunday)
B.A. (Hons.) Multimedia and Mass Communication
B.Ed. Special Education
(Mental Retardation & Visual Impairment)
M.C.A.
M.Sc. Botany
M.A. History
M.A. Urdu
M.A. Punjabi
B.Ed.
20.06.2016
(Monday)
B.El.Ed
M.Sc. Computer Science
M.A. Political Science
M.Sc. Zoology
M.A. Persian
M.A. French, German, Italian, Hispanic
LL.M.
M.Sc. Physics
M.A. Philosophy
M.A. Arabic
M.Sc. Anthropology
M.Sc. Human Development and Childhood studies(Department of Home Science)M.Sc. Plant Molecular Biology & Biotechnology
M.Sc. Mathematics Education(CIC)
B.Sc. Physical Education, Health Education and Sports Sciences (I.G.P.E.S.S.)
M.Sc. Chemistry
M.A. Sanskrit
M.Sc. Operational Research
M.Sc. Forensic Science(Department of Anthropology)M.Sc. Food and Nutrition (Department of Home Science)
M.Sc. Biochemistry
*DU JAT (BMS / BBA (FIA) / B.A. (Hons.) Business Economics) (SDC)
21.06.2016
(Tuesday)
M.A. Economics
M.Sc. – Ph.D. combined degree in Biomedical Sciences & M.Sc. Degree in Biomedical SciencesM.Sc. Electronics
M.Sc. Resource Management & Design Application (Department of Home Science)
M.A. Russian
M.A. Sociology
M.A. / M.Sc. Environmental StudiesM.A. Japanese
M.Sc. Development Communication and Extension (Department of Home Science)
M.A. Applied Psychology
M.Sc. Fabric & Apparel Science (Department of Home Science)
M.A. East Asian Studies
Master of Library Science
M.Sc. Mathematics
M.Sc. Microbiology
M.A. Modern Indian Literature & Literary Studies
22.06.2016
(Wednesday)
M.A. Psychology
M.Sc. Statistics
M.Sc. GeologyM.A. English
M.Sc. Informatics
LL.B.
M.Com.
M.Ed.
M.A. Linguistics
M.Tech. Microwave Electronics
M.Sc. Genetics
23.06.2016
(Thursday)
M.A. Social Work
M.P.Ed. (Department of Physical Education)
M.A. Buddhist Studies
M.A. Geography
*B.A. (Hons.) Humanities and Social Sciences (CIC)
M.A. in Life Long Learning & Extension
M.A. Hindi*B.Tech (IT & Mathematical Innovations) (CIC)
B.P.Ed.
* Undergraduate Courses
Revised Schedule for MA (Applied Psychology) Admission 2016
Revised Schedule for MA (Psychology) Admission 2016
Mode of Admission & Seats Availability
In all the Faculties/Departments, except the ones offering inter-disciplinary or professional courses, there are two modes of admission for postgraduate courses:
Merit or Direct: 50% of the total intake shall be filled by direct admission of the students of the University of Delhi only, on the basis of merit. This mode is not available to students from other Universities.
Entrance: Remaining 50% of the seats shall be filled through entrance examination and Interview/Group Discussion, if any.
It may again be noted that all the candidates seeking admission to the postgraduate courses are required to register online, irrespective of the mode of intake.
Candidates can choose to apply in these two modes under the following three options: (a) Merit only, (b) Entrance only, or (c) Merit + Entrance.
The seat distribution for each Course under Direct and Entrance modes. The reservation to the prescribed extent shall apply separately in both the modes (Direct and Entrance) in compliance with the rules notified by the University from time to time.
The Courses having Interview/Group Discussion (GD) after Entrance test, along with their weightage.
A List of PG/Master's courses offered by various faculties for online admission process is given below. It may be noted that certain Faculties/Courses, which are not part of the current online registration process.
Reservation
Scheduled Caste – 15% of total intake in each course
Scheduled Tribe – 7 ½ % of total intake in each course
Other Backward Classes – 27% of total intake in each course
Age Limit
As per Ordinance-I of the University, there is no minimum age bar for admission to the under-graduate and postgraduate courses in the University and its colleges except in the courses where the respective regulatory bodies, such as Medical Council of India (MCI), All India Council of Technical Education (AICTE), Bar Council of India (BCI), National Council of Teacher Education (NCTE), Dental Council of India (DCI), etc. have prescribed the minimum age requirement in their regulations.
Faculties & Courses Offered
Name of the Faculty
Name of the Courses
Arts
M.A. – Arabic, Buddhist Studies, English, German, Hispanic, Italian, French, Hindi, Library & Information Science*, Linguistics, Bengali, Tamil, Comparative Indian Literature, Persian, Philosophy, Psychology, Applied Psychology, Punjabi, Sanskrit, Urdu
Applied Social Sciences and Humanities
M.A. – Russian Studies
Commerce and Business Studies
M.Com.
Education
B.Ed., -B.Ed. (Special Education- Mental Retardation), B.Ed. (Special Education- Visual Impairment), Master of Education (M.Ed.)
Inter-Disciplinary & Applied Sciences
M.Sc. – Genetics, Bio-Chemistry, Plant Molecular Biology & Biotechnology, Electronics, Microbiology, Informatics and Master of Physical Education Bachelor of Physical Education, M.Tech- Microwave Electronics
Law
LL.B., LL.M.
Music & Fine Arts
M.A – Hindustani Music (Vocal/Instrumental), Karnataka Music, Percussion Music (Tabla/Pakhawaj)
Mathematical Sciences
M.A.- Mathematics, Statistics, Applied Operational Research, M.Sc. – Mathematics, Operational Research, Statistics, Applied Operational Research, Computer Science, MCA**
Social Sciences
M.A.- Life Long Learning & Extension, Political Science, History, Economics, Sociology, Geography, Social Work, East Asian Studies, Japanese
Science
M.A- Environmental Studies M.Sc. Anthropology, Botany, Physics, Chemistry, Forensic Science, Geology, Zoology, Environmental Studies, Fabric & Apparel Science, Food & Nutrition, Human Development & Childhood Studies, Development Communication & Extension, Resource Management & Design Application.
M.Sc -in Biomedical Sciences and M.Sc.- Ph.D. combined degree are Common entrance test course in Biomedical Sciences
 Cluster Innovation Centre
Master of Mathematics Education (Meta University)
All Delhi University Admissions
If you have any query regarding this topic please post your queries HERE