Lloyd Entrance Test (LET) 2015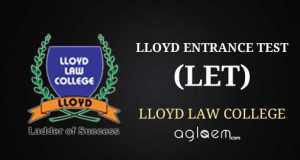 The Lloyd Entrance Test 2015 (LET 2015) will be conducted on 23 May 2015 by Lloyd Law College, Greater Noida. The exam is conducted to determine admission to B.A.LL.B. 5 year programme.
LLOYD ENTRANCE TEST (LET 2015) is an entrance test for admission to its B.A.,LL.B-five year integrated course at Lloyd Law College. It is an undergraduate programme approved by the Bar Council of India (BCI) and affiliated to CCS University. The test is mandatory for admission into the B.A.,LL.B programme in LLOYD LAW COLLEGE.
Notice: The Last Date of submission of Online Application Form for Lloyd Entrance Test (LET) 2015 has been Extended upto 20th May 2015.
Admit Card of Lloyd Entrance Test (LET) 2015 has been declared now.
Important Dates
| | |
| --- | --- |
| Availability of online forms on college website (www.lloydlawcollege.com) | 10th January, 2015 (Saturday) |
| Last date for submission of online application forms | 17th May, 2015 (Sunday) Extended till 20th May 2015 |
| Last date for submission of forms (Offline application) | 15th May, 2015 (Friday) |
| Issue of Hall Tickets | 20th May, 2015 (Wednesday) |
| Date of LET-2015 | 23rd  May, 2015 ( 3 pm to 5 pm) [Saturday] |
| Notification of Result (On-line) | 30th May, 2015 (Saturday) |
| Personal Interview & Admission Process |  1st June, 2015 (Monday) Onwards |
The college invites applications for the five year integrated B.A.,LL.B. degree programme for the academic year 2015. The Entrance Test will be conducted at different cities across the country. It is of 120 minutes duration consisting of 150 questions from General Knowledge & Current Affairs, English including Comprehension, Mathematics, Logical Reasoning, Legal Aptitude & Legal Awareness.
Stages of Selection for admission in B.A.LL.B-5 Year Program
Entrance Test "LET-2015"
Personal Interview
Merit
Quick Links
Resources
Important information about the exam at a glance
| | |
| --- | --- |
| Name of law entrance test | Lloyd entrance test (LET 2015) |
| Course offered | BA LLB 5 year program |
| Seats | 200 |
| Date of exam | 23 May 2015 |
| Application forms | Available online as well as offline |
| Duration of exam | 120 minutes |
| Number of questions in the exam | 150 |
| Subject areas covered in LET 2015 | General Knowledge & Current Affairs, English including Comprehension, Mathematics, Logical Reasoning, Legal Aptitude & Legal Awareness |
Eligibility
To be eligible to appear for "LET-2015", a candidate must have passed his/her Higher Secondary School/Intermediate Examination (10+2) or its equivalent examination with not less than 45% marks in aggregate (40% in case of SC/ST). Candidates who have appeared in the 10+2 examination and are awaiting results are also eligible to appear in the test.
Age of candidate should not be more than 25 years as on 1st July 2015.
The candidate must have passed the qualifying examination at the time of his/her admission and be able to submit its proof.
All offers of admission by "LET-2015" shall be provisional and subject to the approval of Chaudhary Charan Singh University.
Pattern of LET Paper
| | |
| --- | --- |
| Total Marks | 150 |
| Total number of questions | 150 |
| Duration of examination | 120 Minutes |
Subjects and Marks Distribution
| | | | |
| --- | --- | --- | --- |
| Sr.No. | Section | No. of Questions | Total |
| 1. | General Knowledge & Current Affairs | 30 | 30 |
| 2. | English including Comprehension | 30 | 30 |
| 3. | Mathematics | 25 | 25 |
| 4. | Logical Reasoning | 25 | 25 |
| 5. | Legal Aptitude & Legal Awareness | 40 | 40 |
| | TOTAL | 150 | 150 |
Note :
There will be 5 sections (Section – I to V) comprising of multiple choice questions only.
All questions carry equal marks.
There is no negative marking.
Use only blue/black ballpoint pen during the entrance test.
Syllabus
General Knowledge & Current Affairs
This section will test General knowledge & current affairs.
English including Comprehension
The English section will test the candidate's proficiency in English based on comprehension and grammar. In the comprehension section, candidates will be questioned on their understanding of the passage and its central theme, meanings of words used therein etc. The grammar section will include correction of incorrect grammatical sentences, fill in the blanks with appropriate words, Jumbled words & Sentences, Antonyms, Synonyms, Part of Speech, Idioms & phrases etc.
Mathematics
This section will test candidate's Knowledge of elementary mathematics upto 10th standard. .
Logical Reasoning
The purpose of the logical reasoning section is to test the student's ability to identify patterns, logical links and rectify illogical arguments. It will include a wide variety of logical reasoning questions such as syllogisms, logical sequences, analogies, etc.
Legal Aptitude & Legal Awareness
This section will test the legal aptitude of the students. Questions will be framed with the help of legal propositions (described in the paper), and a set of facts to which the said proposition has to be applied. Some propositions may not be true in the real sense (e.g. the legal proposition might be that any person who speaks in a movie hall and disturbs other that are watching the movie will be banned from entering any movie theatre across India for one year). Candidates will have to assume the truth of these propositions and answer the question accordingly.
Candidates will not be tested on any prior knowledge of law or legal concepts. If a technical/legal term is used in the question, that term will be explained in the question itself. For example, if the word internet crime is used, the meaning of the internet crime ("The internet crime include that group of crimes which make criminal use of the internet infrastructure like (i) Hacking- theft of information, theft of passwords, theft of credit card number(ii) Launch of malicious programmes etc") will also be explained.
Note: Previous Years question Papers is also available on our website.
About Lloyd Law College
The Lloyd Law College, Delhi/NCR is one of the premier law colleges of the country. It is already one of the most aspired colleges for law aspirants to be a part of it. It is the renowned legal institution in India imparting legal education through different law programmes. The College attracts students from all over the Country & Abroad including areas like Delhi, Srinagar, Hyderabad, Jaipur, Bhopal, Kolkata, Mizoram, Nagaland, Chennai, Patna, Allahabad, Lucknow, Manipur, Chandigarh, Mumbai, Pathankot, Ajmer, Raipur, Assam, Arunachal Pardesh, and the Countries Like Bhutan, Nepal etc.
The College has given tremendous contribution in the growth of Legal education. It has a very beautiful/lush green campus with top notch facilities. To impart higher quality of education to its students, it has a team of best faculty members who share all kinds of knowledge and information related to their areas.
Address for Correspondence:
The Convenor,
LLOYD ENTRANCE TEST for Law, "LET-2015"
LLOYD LAW COLLEGE, Plot No. 11, Knowledge Park II,
Greater Noida – 201306, Delhi/NCR
Telephone : +91- 0120-6525116/117
Mobile : +91-9999703599, 8800621117.
Click Here for All Law Entrance Exams