Complete Details for NIRMA University MBA Admission 2015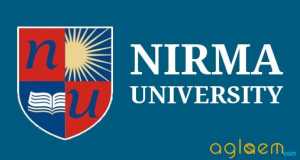 NIRMA University MBA 2015 applications will start from 10th Oct 2015. Nirma University, the Institute of Management is recognized by the University Grants Commission (UGC). All the Post-graduate degree of the Institute is recognized as equivalent to the Post-graduate degree of any other Indian university. Similarly, the Institute's Ph.D. degree is also recognized as equivalent to Ph.D. of any other Indian University.
Important Dates
| | |
| --- | --- |
| Offline Application form available from | October 10, 2014 |
|  Online Application form available from | October 10, 2014 |
|  Last date for submitting the form | January, 20 2015 |
|  Short-listing of the Candidates | January/February 2015 |
|  Written Communication Test/Personal Interview | March 2015 |
|  Final Selection | April 2015 |
|  Commencement of the Programme | End of June 2015 |
How to Apply
The Information Regarding to Apply Online available from October 10, 2014 to January, 20 2015.
Application Form
Application form Available from October 10, 2014 to January, 20 2015.
Number of Seats Available : 240
Up to fifteen percent of seats is allocated for admission to NRI/NRI sponsored students. Over and above fifteen percent seats are also allocated to Persons of Indian Origin (PIO) / Foreign Students / Children of Indian workers of Gulf countries and South East Asia.
Eligibility
A three-year bachelor's degree (10+2+3) or equivalent in any discipline from a recognized university with at least 50% aggregate marks or equivalent CGPA.
Candidates appearing in the final year of the Bachelors Degree and completing all requirement for obtaining the degree by June 25th, 2015 can also apply provided they furnish the proof of having met with the minimum eligibility criteria by September 30, 2015. The candidates failed to meet the minimum eligibility criteria will be asked to withdraw from the programme. The tuition fee paid by such candidates will be forfeited unless such vacant seats are filled by other candidates.
Application Procedure
Application and Written Test (Common Admission Test)
Written Test
Applicants are required to appear for Common Admission Test [CAT 2014] conducted by Indian Institute of Management (IIM). The CAT examination will be conducted at different centres all over the country on November 16 and November 22, 2014 [refer CAT Bulletin for further details at www.catiim.in.] IMNU will receive the test scores from IIM for those candidates who have appeared in the CAT examination and have also applied to IMNU. IIM have no role either in the selection process or in the conduct of the programme.
Foreign students / NRI / Person of Indian origin / Gulf Countries and South Est Asia candidates can be considered for admission on the basis of their GMAT scores also [not taken before January 2014]. However NRI sponsored candidates will be considered for admission only on the basis of CAT scores. GMAT scores will not be considered for NRI sponsored categories.
Selection Process
Candidates shortlisted on the basis of their performance in different components of Common Admission Test will be called for Personal Interview and a Written Test (to test the written communication skill). The interview and the test will be conducted in Ahmedabad, Bangalore, Delhi, Kolkata and Pune. The candidates will be be finally selected for admission based on the candidates' performance in the CAT, Personal Interview, Written Communication Test, Academic Performance in X, XII and graduation.
The following weightage will be given for each component of the selection criteria :
Common Admission Test : 60%
Personal Interview : 20%
Written Communication Test: 10%
Academic Performance: 10%
An additional score up to 5 points will also be given for full-time relevant work experience in a professional organization.
Click Here for All Nirma University Admission Click Here for All MBA Admission through CAT