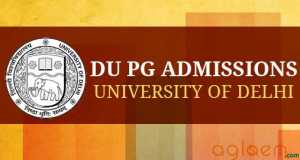 DU DSE M.Com Admission 2018 – Candidates seeking admission in M.Com course, offered by various colleges under Delhi University (DU) can apply on the official website. The admission of the candidate will be done on the basis of fulfillment of eligibility criteria and performance in the entrance test. Check more details on DU DSE M.Com Admission 2018 from this page.
Latest: DU DSE M.Com Result 2018 has been released. Candidates can check it through the link provided in "Result" page.
DU DSE M.Com Admission 2018
The Application Form for DU M.Com Admission 2018 is available online, on admission.du.ac.in. Before filling the application form, candidates have to ensure the eligibility criteria. Ineligible candidates will not be granted admission.
Quick Links
Eligibility Criteria of DU M.Com
The eligibility criteria of DU M.Com Admission 2018 is separately given for the candidates seeking admission on the basis of Entrance Exam and Merit Basis. Candidates may check it from the link below:
DU DSE M.Com Eligibility Criteria for Entrance Category:
Course Requirements: Candidates should have passed B.Com (Hons) / B.A (Hons) in Economics / B.Com (Pass) / B.Com (Degree) / B.B.S. / B.B.A. / B.B.A. / B.I.F.A. / B.B.E.

Degree Awarded: The degree must have been awarded from the University of Delhi or ant equally recognized University/Institute.
Marks in Degree Program:

B.Com (Hons) / B.A (Hons): 50% marks in aggregate for General Category. However, the same for OBC, CW, PwD, SC and ST category candidates is 45%
B.Com (Pass) / B.Com (Degree): 55% aggregate marks should have been secured by General Category candidate. The same for candidates belonging to OBC category is 49.5% and for CW, PwD, SC and ST candidates it is 54%.
B.B.S. / B.B.A. / B.B.A. / B.I.F.A. / B.B.E: The candidates must have secured 60% marks in aggregate. The minimum mark percentage for candidate belonging to OBC category is 54% and the same is 55% for CW, PWD, SC and ST category candidates.
DU M.Com Eligibility Criteria for Merit Category:
Course Requirements: B.Com (Hons) / B.Com (Pass) / B.Com (Degree)

Degree Awarded From: University of Delhi or equivalent body.
Marks Requirements:

B.Com (Hons): General category candidates must have secured 65% marks. Whereas OBC Category candidates need to secure 58.5% and the same for CW, PwD, SC and ST candidates is 50%.
B.Com (Pass) / B.Com (Degree): 70% marks in aggregate for General Category 63% for OBC Category 65% for CW and PWD Category Minimum passing marks for SC &ST category
Seat Intake in DU M.Com
The previous year's seat intake was as mentioned in the table below. It is expected to remain same this year as well. However, if any changes are announced then it will also be incorporated on this page.
| | | |
| --- | --- | --- |
| Category | Entrance | Merit |
| General | 92 | 89 |
| SC | 28 | 26 |
| ST | 15 | 12 |
| OBC | 50 | 47 |
| Total | 185 | 174 |
Reservation of Seats Under DU DSE M.Com
For admission in Master of Commerce course, offered by Delhi University, the below mentioned reservation criteria will be used.
Scheduled Caste = 15%
Scheduled Tribe = 7 ½ %
Other Backward Classes = 27%
Inter-changing of reserved seats under DU M.Com
SC/ST Seats – The reserved for SC or ST candidate will only be filled with the person belonging to the particular category. However, if the number of eligible candidates in one category is less than other, then the seats might be inter-changed between SC and ST candidates.
OBC/General Candidates – If the above said situation arises with the OBC and General category, then seats will be interchanged among them.
Note: If even after interchanging the seats remain vacant then it will be left vacant for the entire session.
DU M.Com Result 2018
Delhi University has announced the result of Commerce M.Com Admission 2018 on its official website. It has been announced as a PDF, in which the following details about the qualified candidates will be mentioned:
Roll Number
Marks Obtained
Category Rank
Unreserved Rank
DU M.Com Counselling  2018
The counselling schedule will be provided for the session 2018-19 and it will be held in Department of Commerce in Delhi School of Economics, Universiy of Delhi as per the schedule.
INSTRUCTIONS TO CANDIDATES
Candidates should be present at the day of counselling allocated, otherwise, they may lose their seat or if any seat is vacant it can be provided to them.If they are not present on the alloted day, they can present themselves on subsequent days.
Following documents along with their attested copies are required-

Class 10th mark sheet
class 12th mark sheet.
class 10th original certificate
class 12th original certificate
Provisional certificate and mark sheet of the qualifying examination.
Character certificate (recent,six months)
Category certificate
Migration certificate: required for those who have passed their qualifying examination from outside Delhi.
At least two passport size self-attested photographs.

No request for the alteration of day allotted will be entertained.
PWD candidates require to get their certificates from the specified authority.Type of disability and percentage of disability should be mentioned. The candidate shall be offered provisional admission subject to verification of their medical certificate.They must be viewed by University, College, Department from the concerned issuing authorities.
Candidates will be required to complete the admission formalities within 3 working days from the date of counselling, failing which the offer of admission will be canceled and the seat will be offered to the next eligible candidate as per his /her rank.
PROCESS OF COUNSELLING
Candidates in category A(direct admission ) will be called according to their rank in merit and graduation scores.Category B students (entrance exam )will be called according to their rank.
Once alloted, the candidate will not be allowed to shift from category A to category B.
If category A seats remain vacant, then they can be converted to category B.
The candidates have to bring all their original documents as well as eligibility category certificates.
For selection in M.Com course, the decision of admission committee will be final.
DU PG Admission Commerce Entrance Exams