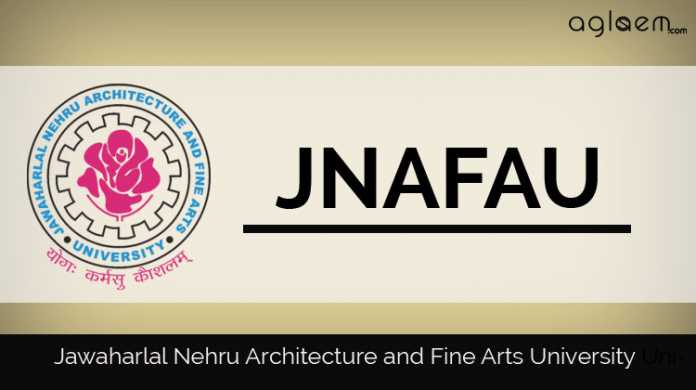 JNAFAU Application Form 2017 –  JNAFAU Entrance Examination is conducted for admissions into the Bachelor of Fine Arts and Bachelor of Design courses(UG and PG). The candidates who wish to apply for the Fine Arts and Design Examination are requested to fill the application in the online Application Form by collecting the required information from the relevant certificates. Candidates are advised to check eligibility criteria before applying. candidates can get all details regarding JNAFAU Application Form 2017 from this article.
Latest: 
JNAFAU Application form for MFA Admission 2017 is available now, apply through the link provided below.
JNAFAU Application Form 2017
Online Application Form of JNAFAU Application form for MFA Admission 2017 is available now. Eligible candidates who wish to apply may fill the application forms for each course separately by visiting the University website at www.jnafau.ac.in. Candidates are advised to read the Admission Guidelines/ Instructions carefully before filling up the application form. Candidates can also apply online through the direct link, which is given below.
Events
Dates
BFA
Last date for Registration & Submission without late fee
24 Jun 2017
Last date for Registration & Submission with Late Fee of Rs. 3000/-
10 Jul 2017
MFA
Last date for Registration & Submission without late fee
13 Nov 2017
Apply Online for JNAFAU MFA Admission 2017: 
Official Website: www.jnafau.ac.in
Application fee: All the candidates have to pay Registration cum Processing fee of Rs.1000/- which shall be paid in cash only. Tuition fee should be paid in Cash / DD (in favour of "Registrar, JNAFAU") on any nationalized bank payable at Hyderabad, at the time of admission
The following information must be kept ready for filling the details before taking print out of the application –
Hall ticket number of the qualifying examination (from the intermediate/10+2/Equivalent Certificate).
Percentage of marks in qualifying examination (from marks memo of intermediate /10+2 / Equivalent Certificate)
Hall ticket Number of S.S.C or equivalent (from SSC or Equivalent Certificate)
Date of Birth (from SSC or Equivalent Certificate)
Caste in case of SC/ST/BC (from caste certificate issued by MRO)
PH, NCC, Sports etc.(from certificate issued by competent authority)
Income up to one lakh or up to two lakhs or more than two lakh rupees (from income certificate issued by MRO).
Study or residence or relevant Certificate for proof of local status (from certificates issued by School/college).
Aadhar card Details (from Aadhar card).
DD number, Date, Bank Name and Branch.
Transfer Certificate (School/College Leaving Certificate).
Note: The above certificates are to be submitted along with the application and D.D.
Recent passport size digital colour photograph (file size less than 30KB in JPEG file format) and signature of the candidate (file size less than 15KB in JPEG format) should be uploaded in the space provided.
Candidate shall furnish a mobile number and Email ID
All the entries should be correct and the candidate will be held personally responsible for any incorrect entry that he/she makes. Any false or incorrect statement in the application detected at any stage will render the admission of the candidate null and void.
The candidates are therefore required to check the filled in particulars before pressing the SUBMIT button.
Candidates should then take the printout of the filled online application form and sign in the relevant places, enclose DD and relevant certificates and submit in person or by post. In case a candidate wants to appear for more than one test, separate application has to be filled and separate fee has to be paid accordingly.
After submission of Application Form, if any corrections are to be incorporated, candidate has to contact the office of the Director of Admissions, JNAFAU.
The application which is incomplete and which does not have relevant certificates enclosed is
liable to be rejected. No application will be entertained after the last date. The University is not responsible for non-receipt of applications by the notified date & time for any reason. Registration fee once paid will not be refunded, even if the application is rejected either before or after the entrance test/ Admission.
The Candidate should download the Hall Ticket from the website jnafau.ac.in only. Candidates shall be ranked in the order of merit. Rank card shall be downloaded from the website. Candidates are advised to see the notification for certificate verification and counselling after the declaration of Fine Arts and Design results.
No candidate will be admitted into a degree course unless he/she has passed the qualifying examination, i.e. intermediate or equivalent. Admission will not be granted to candidates whose conduct is reported unsatisfactory. The University reserves the right to cancel the admission of the candidates at any stage if/ when it is detected that admission is against the rules.
Candidates are informed to remember/save their Application number till the entire admission process is completed. You are advised to retain a copy of application submitted to the University.