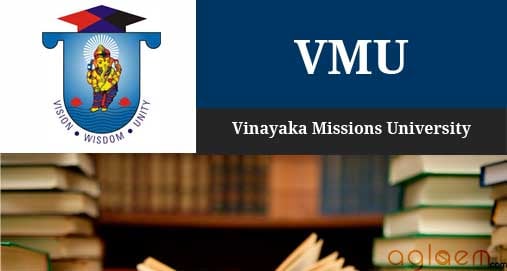 Vinayaka Mission BDS Admission 2017 to undergraduate courses in BDS programme will be done on the basis of marks obtained in the NEET 2017. Candidates who qualifies National Eligibility Cum Entrance Test (UG) 2017 are eligible to apply for VMU BDS Admission 2017. Vinayaka Mission Dental Admission 2017 will be done on the basis of marks obtained in the NEET 2017.
Vinayaka Mission BDS Admission 2017
Candidates seeking BDS admission in the Vinakyaka Missions University can fill the application form for counselling. Application form for BDS counselling is made available on the official webiste of the Vinakyaka Missions University.
Application Form: Link to Apply Online for Vinayaka Mission BDS Admission 2017 through NEET UG will be made available here once its released by the university.
Candidates are advised to check the eligibility criteria before applying for VMU Dental Admission 2017.
Application Fee
The cost of Application Form for Vinayaka Mission BDS Admission 2017 will be notified along with the release of application form.
VMU BDS Admission 2017 Eligibility Criteria
Candidates belonging to any State / Union Territory of India are eligible.
Candidates should have completed the age of 17 years at the time of admission or should complete this age as on 31st December of the year of admission.
Candidates should have passed in the H.Sc. (+2) / its equivalent examination and obtained a minimum of 50% of Marks (40% in case of
SC / ST & OBC and 45% in the case of Locomotory disability of lower limbs) taking together Physics, Chemistry and Biology (or Botany & Zoology) / Biotechnology and a pass in English.
Candidates should qualify NEET 2017.
Eligibility for NRI Category
NRI / Foreign National / Indian National supported by NRI, who have qualified in NEET are Eligible to apply. To qualify under the Indian national supported by NRI category, candidate must be supported by either parent or brother or sister or spouse having an NRI status. Candidates supported by cousins, uncle, aunt, brother-in-law, sister-in-law or any other person are not eligible.
NRI applicants should submit the photocopy of the passport and the sponsoring relative's passport at the time of admission counseling. If the spouse is sponsoring and his/her name is not reflected in the passport, marriage registration certificate should be submitted. No other certificate or affidavit in lieu of the above will be accepted.
VMU BDS Admission 2017 Selection Procedure
Candidates seeking admission into BDS Degree programme must have appeared and obtained the prescribed marks / percentile in the NEET 2017, conducted by the Central Board of Secondary Education (CBSE), New Delhi.
Counseling / Admission call letter will be sent to the candidate. Details of counselling venue, timings, dates will be mentioned on it.
Failure to report in time on the date fixed for Counseling / Admission can result in forfeiting his/her chance for admission
Admissions shall be made strictly on the basis of merit and availability of seats. As soon as the seats are filled admissions shall be closed. Merely being called for and presenting oneself for counseling will not confer any right for admission.
Document Verification
All admissions are subject to verification of the original certificates and documents of the candidates. The decision of the Vice-Chancellor shall be final regarding the eligibility of any applicant for the admission under the Vinayaka Missions University.
If at any time before or after admission it is found that the candidate does not meet the eligibility requirement, the seat shall be denied to him / her. Therefore, it is the responsibility of the candidates to ensure that he / she meets all the eligibility requirements.
Candidate shall not be allowed to attend the counseling without producing their original certificates.
When a candidate accepts the seat allotment, his/her original certificates will be retained by the University, for the period decided by the competent authority.
List of Original document to be produced for counselling
Vinayaka Missions University Counseling Call Letter
NEET Hall Ticket, Rank Sheet & Score Card
12th Mark Sheet
12th Pass Certificate (In case of CBSE or ISCE)
Birth Certificate
Transfer Certificate from the school last studied
Migration Certificate from other Board of Tamilnadu from where the andidate passed in 12th Standard
Character and Conduct Certificate issued by the school last studied
Medical Certificate for Physical Fitness and mental soundness from a Medical Officer not below the rank of a Civil Surgeon
Community Certificate
Recent Passport size colour photographs – 8 Nos.