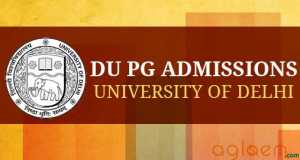 Delhi University (DU) Postgraduate (PG) 2018 Admission has started. Through it, the candidates may apply for the admission in Delhi University. To grant the admission, the university conducts an entrance examination. Read the article below to know all the dates and details about DU PG Admission 2018.
DU PG Admission 2018
Interested candidates for DU PG Admission 2018 can go through this page and can stay updated for more information. There are various types of courses like LLB, M.Ed., B.P.E.D, B.Ed, M.Sc., M.Tech, B.El.Ed, M.P.Ed, MA, M.C.A, M.Com, B.P.E.D, M.Phil, and Ph.D which Delhi University offers to the aspirants.
Schedule for DU PG Admission 2018
The dates for DU PG Admission 2018 are going to be announced very soon. The table below will be updated as soon as brochure is released. Until then, the candidates may check the tentative duration for events of DU Admission.
| Event | Important Dates |
| --- | --- |
| Online registration will begin from | 2nd week of June 2018 |
| Last date to submit the form is | Last week of June 2018 |
| Availability of DU PG Entrance Exam admit card | Last week of June 2018 |
| DU PG Entrance Exam will be held in | 1st week of July 2018 |
| Result will be announced on | 2nd week of July 2018 |
| GD / PI | 2nd week of July 2018 |
| Classes will commence from | 3rd week of July 2018 |
All the candidates seeking admission to the post-graduate (PG) or master's programmes are required to register online. There is a common web portal for the centralized registration of applicants and a common registration form for admission to all the PG & master's courses in the university.
Quick Links
DU PG 2018 – Mode of Admission
In all the Faculties/Departments, except the ones offering inter-disciplinary or professional courses, there are two modes of admission for postgraduate courses:
Mode-1- Merit or Direct: 50% of the total intake shall be filled by direct admission of the students of the University of Delhi only, on the basis of merit. This mode is not available to students from other Universities.
Mode-2-DU Entrance Exam: Remaining 50% of the seats shall be filled through entrance examination and Interview/Group Discussion, if any.
DU PG 2018 Admission – Eligibility Criteria
Age Limit: As per Ordinance-I of the University, there is no minimum age bar for admission to the under-graduate and postgraduate courses in the University and its colleges except in the courses where the respective regulatory bodies, such as Medical Council of India (MCI), All India Council of Technical Education (AICTE), Bar Council of India (BCI), National Council of Teacher Education (NCTE), Dental Council of India (DCI), etc. have prescribed the minimum age requirement in their regulations.
Education Qualification: To receive admission in a course, candidates must have had graduation Degree in specified specialization.
There are numerous courses under DU PG Admission 2018. Whichever course candidates opt for, it is mandatory to fulfill the eligibility criteria.
It is the most sought institution for pursuing higher studies. DU has various faculties which provides admission to UG and PG courses. For some of the courses, DU admiThe DU PG 2018 Eligibility Criteria will vary as per each course. It will encompass requirements for education qualification only. Candidates should note that there is no age bar as per the University of Delhi. However, candidates will have to satisfy the age criteria laid down by MCI/AICTE/BCI/NCTE/DCI, etc
If the criteria for eligibility are not meet completely, the admission is not granted. Even if the candidate has qualified the entrance examination and secured marks more than the cutoff, the admission will not be granted.
Click here to Download / View Eligibility Criteria, If above window is not working.
DU PG 2018 – Application Form
The application form for DU PG 2018 released on www.du.ac.in. The candidates may download may submit it by accessing the link above. To apply successfully, the candidates will have to submit personal, educational and other details.
The requisite amount of fee is also to be paid. It is Rs. 500 for General and OBC category and Rs. 250 for SC/ST/PwD category. The candidates can submit the application form for DU PG Admission 2018 online, through Net Banking or Debit/Credit Card.
DU PG Admission 2018 – Reservation Criteria

The reservation under each course of DU PG 2018 will be as below:
Scheduled Caste (SC) – 15%
Scheduled Tribe (ST) – 7 ½ %
Other Backward Classes (OBC) – 27%
DU PG Admission 2018 – Faculties & Courses Offered
For more information regarding DU PG Admission, candidate can download 2017's information brochure.
Official website: www.du.ac.in
Insofar, official details of DU PG Admission 2018 have not been announced. Information on this page is as per last year brochure and for reference purpose only. As soon as Delhi University releases DU PG Admission 2018 information brochure, details will be updated here.
Students may leave their queries in the comment section below.