NEET 2023 Dress Code has been announced by NTA for male and female students. If you are appearing for the National Eligibility Entrance Test (NEET UG) on 7th May, then you should know what you can and cannot wear for the exam. The dress code for NEET exam conveys the list of allowed clothes, and list of barred items for the medical entrance exam. It is important as only those who follow the dress code will get entry in the exam center.
Recommended – NEET 2022 Question Paper
NEET 2023 Dress Code
What is NEET Dress Code 2023?
The dress code for NEET 2023 is the list of what is allowed and what is not allowed for students to wear for the exam. Some clothes are banned as they are considered cheating risks. Therefore boys and girls should only wear what is allowed for them as per the dress code.
Apply Now For Best Institutions in India
Following is the official dress code provided by NTA in the NEET 2023 information bulletin.
NEET 2023 Dress Code and Barred Items View Download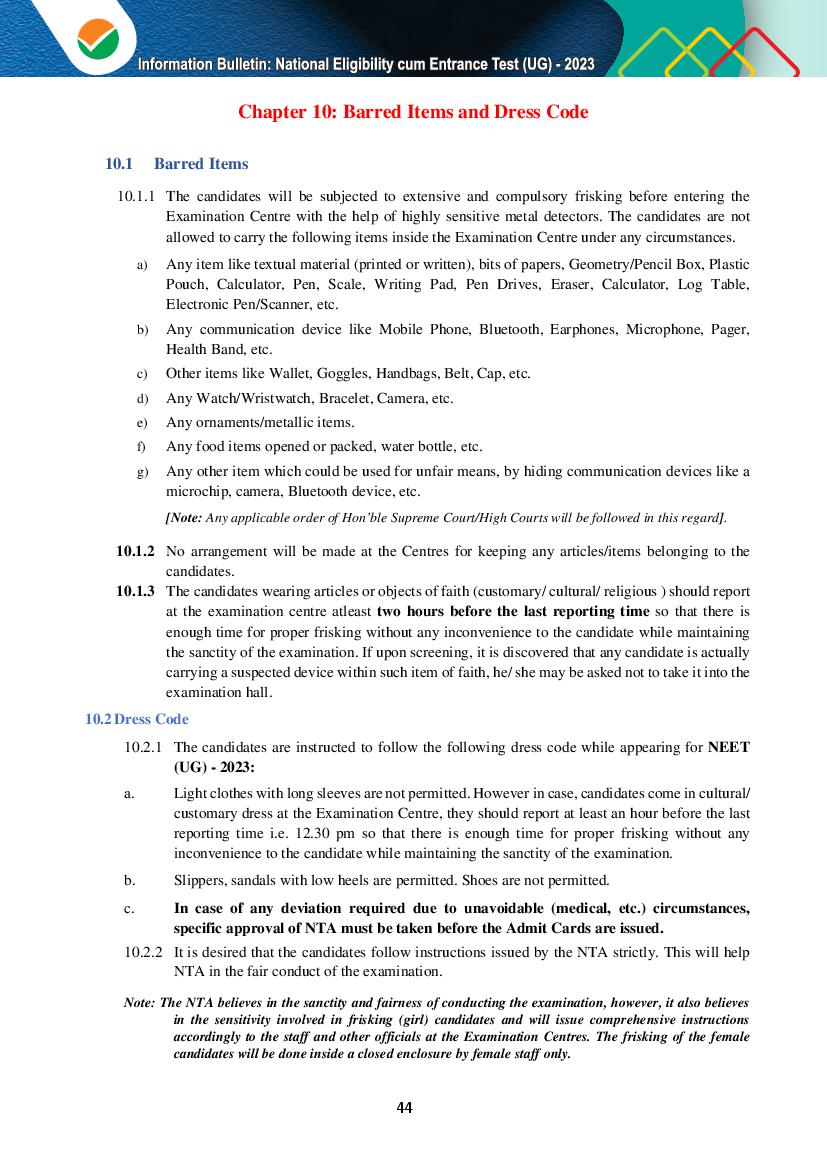 NEET 2023 Dress Code for Female Students
Female students have a larger variety of clothing types as compared to male students. This can be attributed to cultural diversity across India, as well as climate and weather differences. However this leads to greater confusion among the future female doctors on what they can wear for the exam. There are many questions like can we wear jeans? Are palazzos allowed? And so on.
Top wear
NTA has said that long sleeves clothes are not permitted.
However if you are wearing a customary clothing, then you should arrive at the center 2 hours before the reporting time. But even then if the officals find any suspected device, then you will not be allowed to take it to the hall.
Other than that NTA has not provided any guidelines on what to wear for female students.
Therefore you should wear plain, simple, weather-appropriate clothes.
Tops and T-Shirts – NTA has not said in dress code whether these are allowed or not. You can probably wear them as long as the sleeves are short.
Kurtis, Kurta – For this too NTA has not provided any guidelines. Therefore it is probably allowed with short sleeves.
>> In any case ensure that your top / tshirt / shirt / kurti / kurta does not have pockets or buttons or accessories. This is because in the past years, some students were caught cheating with bluetooth devices and center officials find pockets and buttons very suspicious.
Bottomwear
For this too NTA has not provided any guidelines.
Female students usually opt for leggings, jeans, salwar, palazzos and such clothes.
There is not any specific dress code for these therefore it is assumed that they should be allowed.
However make sure that your dress item does not have too many pockets or things that the officials may suspect can aid you in cheating.
Footwear
NTA has said in the NEET 2023 dress code that you can wear slippers, sandals with low heels.
Shoes are not allowed.
Therefore guidelines on footwear dress code is very clear.
NEET 2023 Dress Code for Male Students
Male students across India usually wear t-shirts and pants or jeans for exams. The weather at the time of conduct of NEET is also warm and thus heavy clothes are not usually required. Some guidelines are as follows.
T-Shirt or Shirt – NTA has said that you should not wear clothes with long sleeves. Other than that they have not given any guidelines for tshirts and shirt. However avoid clothes with pockets, and too many buttons. This is because these are usually seen as concealing spaces to help in cheating.
Pants, Jeans – There are no guidelines in NEET 2023 dress code about pants or jeans. So they are probably okay. However wear simple clothes without too many pockets and no accessories at all.
Footwear – Shoes are not allowed as per NTA guidelines. Slippers, sandals with low heels are permitted.
NEET 2023 Dress Code for Articles of Faith
NEET 2023 Dress Code – List of Permitted and Not Permitted Items
The set of rules on the required manner of dress for the national level medical entrance exam are as follows.
Permitted
Slippers, sandals with low heels are permitted
Not Permitted
Light clothes with long sleeves are not permitted.
Shoes are not permitted.
Any item like textual material (printed or written), bits of papers, Geometry/Pencil Box, Plastic Pouch, Calculator, Pen, Scale, Writing Pad, Pen Drives, Eraser, Calculator, Log Table, Electronic Pen/Scanner, etc.
Any communication device like Mobile Phone, Bluetooth, Earphones, Microphone, Pager, Health Band, etc.
Other items like Wallet, Goggles, Handbags, Belt, Cap, etc.
Any Watch/Wristwatch, Bracelet, Camera, etc.
Any ornaments/metallic items.
Any food items opened or packed, water bottle, etc.
Any other item which could be used for unfair means, by hiding communication devices like a microchip, camera, Bluetooth device, etc.
To get fastest exam alerts and government job alerts in India, join our Telegram channel.