Chhattisgarh Professional Board was formed in 2005 by the order of the government. The board is entrusted with responsibilities of conducting professional examinations related to Ayurveda, engineering, agricultural, polytechnics or any other examination. The board recently released a  notification dated 22 April 2017 for the admission into MCA program for the academic year 2017-18.
Latest – CG Pre MCA 2017 Result & Final Answer Key has been published, Check it through the link provided below.
Schedule for the CG Pre MCA 2017 is given below.
| | |
| --- | --- |
| Event | Date |
| Submission of CG Pre MCA 2017 Online Application Form starts | 22 Apr 2017 |
| Last date for pay Application fee through Online mode | 09 May 2017 |
| Last date to pay fee in offline mode in SBI Bank | 12 May 2017 |
| Last date to obtain the SBI Receipt for paying the fees in offline mode | 11 May 2017 |
| CG Pre MCA 2017 Entrance Exam | 25 May 2017 |
CG Pre MCA 2017
CG Pre MCA Admission 2017 is a state level entrance examination to be conducted by Chhattisgarh Professional Board for the year 2017. The applications have started from 22 April 2017. The form can be filled till 09 May 2017. CG Pre MCA 2017 admit card is issued 7 days before the exam date i.e 25 May 2017. The candidates will have to pay the amount of Rs. 200/- for GEN, Rs.150/- for OBC and Rs.100/- for SC/ST. The exam takes place on 25 May 2017.
The candidates wishing to apply for the CG Pre MCA Admission 2017 can check in this article all the details related to CG Pre MCA Admission 2017 such as important dates, exam pattern and syllabus, application fees, application form process, admit card, test centre and result etc.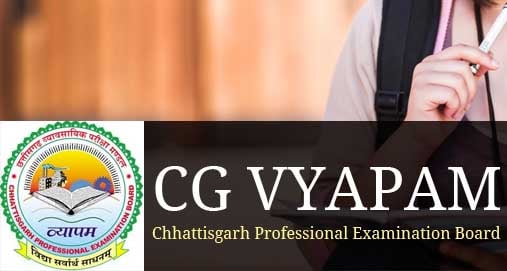 Quick Links
CG Pre MCA 2017 Application Form
The CG Pre MCA 2017 can be filled in online mode only at the official website at cgvyapam.choice.gov.in Application form will require the filing of details such as personal information, parental details, contact details, address details, email id, mobile number, educational qualification, gender etc. after these details have been filled the candidates will need to upload the scanned image which will contain the photograph, signature and left hand thumb impression. To capture this image, you can downlaod the image format from the site first, where you will insert the 3.5 x 4.5 dimension photo, signature and thumb impression. All the three documents are to be pasted on a A4 sheet. Now scan this image not exceeding 40kb to 50kb.
The next step involves paying the requisite amount given here
CG Pre MCA 2017 Application fees
GEN= Rs.200/-
OBC=Rs.150/-
SC/ST/PWD=Rs.100/-
CG Pre MCA Admit Card 2017
CG Pre MCA 2017 Admit Card can be obtained 7 days before the exam. It will be issued on the official website at cgvyapam.choice.gov.in To obtain the CG Pre MCA 2017 Admit Card, credential of the candidates must be entered in the required spaces. Applicant must enter their 15 character Registration ID and Password. You are advised to keep the admit card till the result is declared because the admit card will be demanded at the time of counselling. If you have forgotten your password, then follow the instruction to retrieve it and login again. CG Pre MCA 2017 admit card has to be carried along the Valid ID proof and a ballpoint pen on the exam day.
Test Centre for CG Pre MCA 2017
The exam will take place at Government Nagarjun Post Graduate College of Science, Raipur.
CG Pre MCA 2017 Exam Pattern / Syllabus
Subject
 Topics
Number of Questions
 Mathematics

Algebra
Co-ordinate Geometry
Calculus
Differential Equations
Vector
Trigonometry
Probability and Statistics
Linear programming

100
 Computer Awareness

 Computer Basics
Data Representation
Computer Architecture
Computer Language
Flow chart and Algorithms

40
Analytical Ability & Logical Reasoning
Reasoning visuospatial reasoning
 40
 General awareness

 Business
Finance
Industry Transportation
Scientific Inventions
Governance
Healthcare
Cultural Dimensions

20
The question paper will comprise of 200 objective type questions, 1 mark each to be answered in 03 hours. All questions will have 04 response (alternatives), out of which only 1 will be the correct answer. The candidate has to choose the response, which in his/her opinion is the correct answer and should mark in the OMR answer sheet to score full marks.
CG Pre MCA 2017 Syllabus
Mathematics –
Algebra – Fundamental operations in Algebra Expansion, factorization, simultaneous linear quadratic equations, indices, logarithms, arithmetic, geometric and harmonic progressions, binomial theorem, permutations and combinations, surds,[p determinats, matrices and application to solution of simultaneous linear equations.
Co-ordinate Geometry – Rectangular Cartesian co-ordinates equations of a line, mid point, intersection etc. equations of a circle, distance formula, pair of straight lines, parabola, ellipse and hyperbola, simple geometric transformations such as translation, rotation, scaling.
Calculus – Limit of functions, continuous fuctions, differentiation of functions (s),Tangents and Normal, simple example of maxima and minima, integration of function by parts by substitution and by partial fraction, definite integral application to volumes and surfaces of frustums of sphere, cone cylinder, Taylor Series.
Defferential Equations – Differential equations of first order and their solutions, linear differential equations with constant coefficients, homogenous linear differential equations.
Vector – Position vector and subtraction of vectors, scalar and vector products and their applications to simple geometrical problems and mechanics.
Trigonometry – Simple identities, trigonometric equations, properties of triangles, solution of triangles, height and distance, inverse fuctions.
Probability and Statistics – Basic concepts of probatility theory. Averages Dependet and independent events, frequency distributions and measures of dispersions, Binomial Poisson, normal distributions, curve fitting, and principle of least squares, correlation and regressions.
Linear programming – Formulations of simple linear programming problems, basic concepts of graphical and simplex methods.
Computer Awareness
Computer Basics – Organization of computer, Central Processing Unit (CPU), Structure of instructions in CPU, input output devices computer memory, memory organization, back-up devices.
Data Representation – Representation of characters, integers, and fraction. Binary and hexadecimal representations, Binary Airthmetic: floating point representation of numbers, normalized floating point representation, Boolean algebra, truth tables, Venn diagrams.
Computer Architecture – Block structure of computers, communication between processor and Input/Output devices interrupts.
Computer Language – Assembly language and high level language, Multiprogramming and time sharing operating systems. Computer Programming in C.
Flow chart and Algorithms.
Analytical Ability and Logical Reasoning
The questions in this section will cover reasoning visuo spatial reasoning.
General Awareness
This section will over questions to test the general awareness about business. Finance, industry, transportation, scientific,inventions, governace, healthcare and cultural dimensions etc.
For More Details Regarding CG Pre MCA 2017 – Download Rule Book
CG Vyapam Home Page Computer Application Entrance Exams
You wish to report grammatical or factual errors within our online articles, you can let us know using the
article feedback form
.