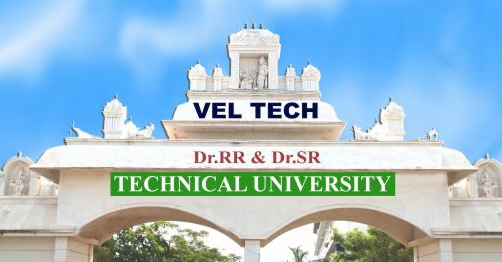 Vel Tech University Engineering Entrance Exam (VTUEEE) 2019 is for admission to B.Tech programs at Vel Tech. VTUEEE 2019 is being conducted in two phases – 1 and 2. Those who appear in phase 1 can avail university fee structure of 2018, whereas 2019 fee structure is applicable for those who appear in phase 2. Also, top rankers of the exam become eligible for scholarships.
Latest: Application form of VTUEEE 2019 is now available.
Vel Tech University Engineering Entrance Exam 2019
Get here complete details of VTUEEE 2019 including dates, application form, admit card, result. To start with, schedule of exam is as follows.
VTUEEE 2019
Phase I
Phase II
Significance
Those who appear in Phase I will avail fee structure 2018.
Those who appear in Phase II will avail fee structure 2019.
Last date to apply
Dec 2018
Apr 2019
Date of computer based test
29 & 30 Dec 2018
25 to 28 Apr 2019
Date of pen and paper test
26 & 27 Jan 2019
Announcement of VTUEEE results
15 Feb 2019
05 May 2019
Quick Links
The examination timing for morning session is 10:00 AM to 12:30 PM. And the timing for afternoon session is 2:00 PM to 4:30 PM.
Candidates may note that in accordance with UGC guidelines, Vel Tech University is now Vel Tech Rangarajan Dr.Sagunthala R&D Institute of Science and Technology. Since most applicants are still referring to it as VTU, hence it is mostly referred to as VTU. However, for all official purposes, name is now Vel Tech Rangarajan Dr.Sagunthala R&D Institute of Science and Technology
VTUEEE 2019
The university offers 23 B.Tech programs and also more programs in collaboration with international universities. Those who wish to appear in VTUEEE must fill and submit VTUEEE 2019 application form. One must also ensure to check eligibility criteria. Applicants can download admit card from the official website in time. Appearing candidates can check result after exam. Get here complete details of VTUEEE 2019 such as dates, application form, admit card, result. Undergraduate engineering admissions to Veltech Dr.RR & Dr.SR University is on basis of VTUEEE 2019.
VTUEEE 2019 Application Form
Candidates can apply for VTUEEE 2019 if they wish to study B.Tech at the University. Since the application form is already available, you should apply soon. The key points regarding VTUEEE Application Form 2019 are as follows:
First of all, candidates need to decide whether they want to appear in Phase I or Phase II.
Those who wish to avail fee structure 2018 must apply for Phase 1. Whereas others can apply for Phase 2.
If you will appear in Phase 1, then you must submit the application form before the deadline of the same. Others must also adhere to the deadline, albeit a separate one. See important dates table above to know the last date for registrations.
Candidates must fill correct details in the VTUEEE Application Form 2019.
They must also submit requisite fee which is Rs 950.
VTUEEE 2019 Admit Card
It is the norm that before an entrance exam, the exam conducting body issues an admit card. Admit cards are unique for each applicant. Only those who apply by the last date get it. Candidates must check the official website of Veltech Dr.RR & Dr.SR University admission regularly after applying to be aware of admit card release. As the Admit card will be released online, Candidates can download it and print it. It is a must to bring the hall ticket on day of exam. Moreover it must be kept in mind that the exam day instructions will be printed in the admit card. Hence it must be read and understood.
VTUEEE Eligibility Criteria 2019
To appear in VTU 2019 engineering entrance examination, candidates must fulfill the eligibility criteria. The eligibility criteria for VTUEEE 2019 is as follows:
He/she should have passed in 10+2 or its equivalent.
Also those who are appearing in 10+2 (Class XII) exam in Mar / Apr / May 2019 can appear for
VTUEEE 2019.
In the event that candidates apply for Veltech Mahatma Gandhi National Merit Scholarship, then, in that case, the state of qualifying 10+2 will be taken as state of belonging.
Eligibility criteria for Vel Tech Lateral Entry Into B.Tech
A candidate who fulfills any one of the following conditions is eligible to apply for lateral entry into B.Tech:
One who possesses Diploma in Engineering / Technology awarded by the State Board of Technical Education or its equivalent can apply for admission to corresponding branch.
Otherwise those who possess Degree in Science (B.Sc.,) (10+2+3 stream) with Mathematics as a subject at the H.Sc. are eligible to apply for admission to the third semester of B.Tech.
Exam Centres
VTU has announced list of exam centres (cities). There are overall 86 cities, see list below, which have exam centres of the exam.
The cities where VTUEE 2019 is being held are as follows: Agartala, Port Blair, Anantapur, Kakinada, Nellore, Ongole, Rajahmundry, Tirupati, Vijayawada, Visakhapatnam, Guntur, Kadappa, Vizianagram, Srikakulam, Kurnool, Itanagar, Guwahati, Patna, Bhagalpur, Bhilai, Raipur, New Delhi, Ahmedabad, Surat, Hissar, Gurgaon, Bokaro, Dhanbad, Jamshedpur, Ranchi, Bangalore, Trivandrum, Bhopal, Gwalior, Indore, Jabalpur, Aurangabad, Mumbai, Nagpur, Pune, Bhubaneswar, Puducherry, Jalandhar, Ludhiyana, Jaipur, Jodhpur, Kota, Udaipur, Chennai, Coimbatore, Erode, Karur, Madurai, Namakkal, Salem, Tiruchirappalli, Vellore, Villupuram, Hyderabad, Warangal, Karim Nagar, Agra, Allahabad, Bareilly, Gorakhpur, Kanpur, Lucknow, Noida, Raebareli, Varanasi, Jhansi, Faizabad, Kolkata, Goa, Simla, Srinagar, Imphal, Shilong, Aizawl, Kohima, Gangtok, Dehradun, Silvassa, Daman, Kavaratti.
VTUEEE Exam Pattern / Syllabus
It is important to know exam pattern of VTU Engineering Entrance Exam. Those who will appear in the exam need to prepare for the exam in accordance with the scheme of exam.
Type of questions: They are multiple choice questions. Herein, the first thing of importance is that VTUEEE 2019 is based on Bloom's Taxonomy Pattern.
VTUEEE 2019 assesses subject knowledge ability, comprehension ability and critical analysis ability.
There are single tier and two tier questions. In two tier questions, a second question is based on the answer of first question.
Marking scheme: There is no negative marking. Each question is of one mark.
Duration: 2.5 hours.
| | | |
| --- | --- | --- |
| Subject | Number of questions | Marks |
| Mathematics or Biology | 50 | 50 |
| Physics | 25 | 25 |
| Chemistry | 25 | 25 |
| Total | 100 | 100 |
How to prepare for VTUEEE 2019?
Students who wish to get good marks in the examination can follow the preparatory tips for the preparation of VTEEE 2019.
Make a study plan- A study plan will help you to do focused study. Make a list of the topics and give more time to your weaker subject.
Understand the basic concepts- You have to learn the things along with the chapters from NCERT books.
Previous year question papers- Solve as many sample papers as you can. Try to solve previous year question papers. It will help you to understand the exam pattern and time management.
Give time time to each subject- Candidates must give equal weightage to all the subjects, make a timetable subject wise and follow it daily. Study around 5-6 hours a day.
VTUEEE Result 2019
VTU Engineering Admission 2019 is on basis of VTUEEE 2019 only. Therefore VTUEEE Result is of utmost importance. Result announcement is online. Veltech Dr.RR & Dr.SR University conducts exam as PPT and CBT. Date of declaration of results is as per schedule. Candidates can visit veltechuniv.edu.in in order to check their result.
The university does not send marks by post. However, it is likely that email initimation be sent regarding publication of result. Moreover it is important to note that in VTUEEE 2019, there is no provision for retotalling or regrading. Also candidates cannot avail photocopies of answer sheets.
Vel Tech University
About Vel Tech University: Veltech Dr. RR & Dr. SR University was establised under section 3 of UGC Act 1956. The World University Rankings 2017 ranks Vel Tech University at 74th in world, and 43rd in Asia. In NIRF engineering institutions, Vel Tech University ranking is 58 among 1007. NAAC Grade A. Vel Tech University is in Chennai.
Undergraduate Engineering (B.Tech) Courses Offered
Aeronautical Engineering
Automobile Engineering
Biomedical Engineering
Biotechnology Engineering
Computer Science and Engineering
Civil Engineering
Electronics and Communication Engineering
Information Technology
Mechanical Engineering
Scholarship
Vel Tech Mahatma Gandhi National Merit Scholarship in Tuition Fee for B.Tech Programs
PCM / BPC topper from each state among candidates who get admission gets 100% scholarship.
Scholarship on basis of PCM or BPC aggregate
| | |
| --- | --- |
| PCM or BPC aggregate | Percentage of scholarship in tuition fee |
| Above 95% | 75% |
| 90 – 94.9% | 50% |
| 80 – 89.9% | 25% |
| 70 – 79.9% | 10% |
Scholarship on basis of VTUEEE Rank
| | |
| --- | --- |
| Rank holders in VTUEEE 2019 from each state | Percentage of scholarship in tuition fee |
| Top 20 ranks | 75% |
| Rank 21 – 500 | 50% |
Vel Tech University Fee Structure
Candidates getting admission in Veltech University through VTUEEE 2019 phase I will indeed avail benefit of past year fee structure. However admission takers from VTUEEE 2019 phase II shall pay fee as per 2019 structure.
| | | |
| --- | --- | --- |
| Tuition Fee | Phase I | Phase II |
| Actual | Rs 1,70,000 | Rs 1,90,000 |
| More than 95% in aggregate in PCM / BPC | Rs 42,500 | Rs 47,500 |
| 90% – 94.9% in aggregate in PCM / BPC | Rs 85,000 | Rs 95,000 |
| 80% – 89.9% in aggregate in PCM / BPC | Rs 1,27,500 | Rs 1,42,500 |
| 70% – 79.9% in aggregate in PCM / BPC | Rs 1,53,000 | Rs 1,71,000 |
Additional fee is applicable for programmes with specialization. Also there is a caution deposit of Rs 5000. in addition there is Rs 15,000 and Rs 5,000 academic and career advancement fee, examination fee respectively.
Official Website: www.veltech.edu.in
For more details of VTUEEE 2019, read information brochure. If you have any queries regarding Vel Tech University Engineering Entrance Exam 2019, please ask in comments below.
Vel Tech University Admissions