CLAT is the most coveted entrance test for Law aspirants and steering to the top in CLAT is extreme. Abhinav Jindal, a boy from Bathinda, has achieved the extreme by securing AIR 05 in CLAT 2016. Not only CLAT, he has also bagged AIR 117 in AILET and AIR 4 in PU Law Entrance. With his spectacular fete, he has surely made his parents and the whole city proud. Abhinav talked with us about his flamboyant success and shared preparation tips for CLAT aspirants. Read the complete interview, there's a lot to learn.
| | |
| --- | --- |
| Name | Abhinav Jindal |
| School | St. Xavier's School |
| City | Bathinda, Punjab |
| Class XII Marks | 96.4% (Humanities) |
| CLAT Attempt | First |
| CLAT Score | 171.5 |
| CLAT Rank | 5 |
About Abhinav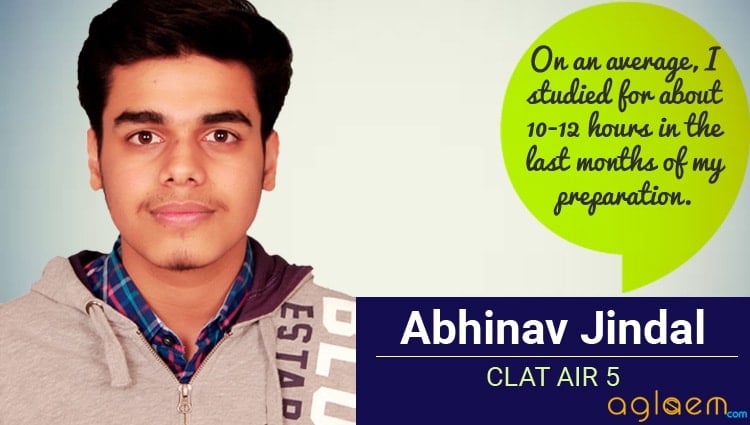 Abhinav Jindal resides in Bathinda, Punjab with his family including his grandparents. An alumnus of St Xavier's School, Abhinav also bagged the second rank in his school in class 12th result scoring 96.4%. We asked about his family and their support, to which he answered
My family, which includes my grandparents, parents and elder brother have been the main motivating force behind my achieving this fete. My parents were there to always bolster my spirits whenever I would feel desolation and depression through my preparation as I had to keep a balance between my board exams and CLAT.

In fact, my dad, who presently serves as a Punjab Government official, is the one who is behind my Legal and GK preparation. He taught me the various legal provisions, simultaneously cheering me up to boost my will. My mom and brother also used to dig up the important current affairs for me regularly.
Abhinav also has an inclination towards listening and singing songs; which he thinks, is a good stress buster. He is a fairly outgoing guy who chills out with friends once a week for refreshment.
CLAT Preparation Strategy
Abhinav, like many others, prepared for CLAT and studied for Class 12th simultaneously. While it gets difficult for most of the students, Abhinav made is look like a cake walk. He explained how he prepared for CLAT, saying
I started my CLAT preparation from my 11th. Beginning with a slow pace, I gradually picked up my preparation intensity and had a fixed plan in my mind to go about with the topics. I studied till my aim for the day was not achieved. On an average, I studied for about 10-12 hours in the last months of my preparation.

Balancing the board exams with CLAT preparation was an arduous task as it could be depressing sometimes. But I used to lay more stress on the exigent topics. I shifted my study hours regularly for having both fronts equally good.
You may not believe it but CLAT 2016 Topper Abhinav did not join any coaching or institute for dedicated CLAT preparation. He focused on the Mock Tests, Practice and repeating important questions. He revealed to us his take upon coaching.
I hardly went for any coaching because my dad helped me in my preparation. I got help from my CL teacher Vijay Jakhar in my weak points. Coaching, in my opinion, is not very important but for those sections in which you are weak and not able to get through by yourself.

Talking about mock tests, I consider them to be the sine qua non for cracking CLAT. The mock tests not only teach you time management and increase your speed, but also help you in preparing for the worst.
Key Takeaways
Have a proper mentor to guide you in your preparation.
Be very selective in choosing the study topics, especially in GK.
Lay more stress on the exigent topics.
Attempt as many mocks as possible for a proper time management.
Have more focus on one's weakest points.
Books for CLAT aspirants
There are numerous books which one can go through for CLAT preparation. Abhinav recommended a few for CLAT aspirants.
| | |
| --- | --- |
| General knowledge | Pearson's GK Manual |
| Mathematics | R.S. Aggarwal |
| Logical Reasoning | R.S. Aggarwal |
| Vocabulary | Novels / Newspaper |
Success Mantra
To become successful, there is no defined formula and mathematics. It is sheer hardwork and dedication that pays off. We asked this CLAT 2016 Topper about his success mantra and he unfolded the secret, saying
My success mantra is the proper guidance that I received from my dad and brother as I got a direction to work in. The motivation that I constantly received from my grandparents, parents and my friends also really helped me a lot in being dedicated towards CLAT and preparing well for it.
On Exam Day
The Exam Day, that's where all of it happens; the anxiety, confusion, hustle, nervousness and lot more. Those who win over them, surely come up with flying colors. We asked Abhinav about his Exam day experience and he spoke
On the exam day, though I was anxious and nervous, but I tried to overcome my anxiety by having faith in myself. I tried to relax my mind, not think about anything and just give it my best.
Talking about the Computer Based Test and its pros and cons, Abhinav said "I feel that the online mode of conducting the exam is better than the offline mode because of the paucity of time in the exam and also better convenience in this mode. Fortunately enough, I did not face any technical glitches in my exam and if someone has to face any such problems, he/she should directly inform the management for their redress."
Tips for CLAT aspirants
Read speedily and continuously while having a good vocabulary for English
Be selective in GK (static or current)
Have a good understanding of the different legal provisions for saving time in Legal Reasoning,
Thorough practice in Maths.
Have good comprehension skills in Logical Reasoning section.
Future Plans
Becoming CLAT 2016 Topper is just the stepping stone, Abhinav has some bigger plans. He shared his dream of becoming a Supreme Court Judge and said
As law is my field of interest, I am aiming to go for judicial services. I wish to become a High Court Chief Justice some day and also probably go further to the Hon'ble Supreme Court of India.
Well, we believe after such a magnificent fete at CLAT 2016, this is a not such a difficult dream to achieve for Abhinav. We wish all the success and good luck for his future journey. All the best, Abhinav!
This interview has been compiled by Aglasem correspondent Pranjali Rastogi and edited by Lalit Sharma.
More Topper Interviews
CLAT Preparation Question Papers Sample Papers Syllabus
To get fastest exam alerts and government job alerts in India, join our Telegram channel.