The coveted CLAT exam is held each year in rotation by the National Law Universities. With law fast becoming a highly sought after field of study after completing school studies, number of takers of Common Law Admission Test is as high as almost 50,000. Unsurprisingly, it was hard work, pursuit of knowledge, and dedication that paid off for Delhi's Ankur Singhal who got All India Rank 3 in CLAT. His interview published here shows what goes into making of a topper.
| | |
| --- | --- |
| Name | Ankur Singhal |
| School | Sanskriti School, New Delhi |
| City | Delhi |
| Class XII Marks | 93.4% (CBSE Board) |
| CLAT Attempt | First Attempt (2016) |
| CLAT Score | 171.75 |
| CLAT Rank | 3 |
| College (Graduation) | National Law School Of India University, Bangalore |
About Ankur Singhal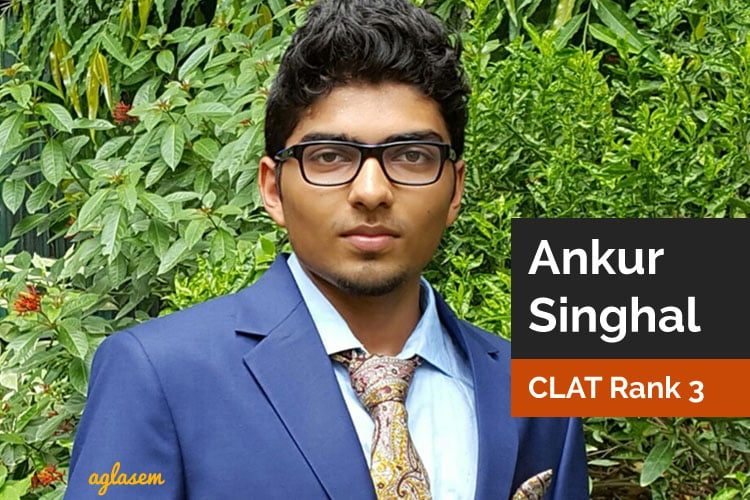 Ankur is a resident of Delhi. His father is an IAS officer. One among three brothers, Ankur thanks his father for helping him out with tough problems during preparation, and his mother for keeping his time schedule on track.
My family lives in New Delhi. My father is an IAS officer and my mother, a housewife. We are three brothers. My family supported me a lot while I was preparing for CLAT. My father helped me solve some tough questions and strategize the whole preparation while my mother kept my time schedule on track.
Ankur indulged in sports and music to take time out while studying. He also plays table tennis, lawn tennis and swims. He says that according to him, sports and other physical activities refreshes one's mind and makes one feel happy. Answer to what motivated Ankur to appear for CLAT exam was inspiration from his father.
I think it was my father (initially), who made me realise that I was made for law. He suggested that I take the CLAT exam but at the same time gave me the right to decide about my career. Basing on the suggestion and my interest, I decided to take CLAT.
CLAT Preparation With School Studies And Board Exam Preparation
Ankur had his eyes set on clearing CLAT 2016. With this in mind, he started preparations right from class 11.
I started preparing around April 2014. On an average, I studied 5 hrs on a school day and 10 hrs on a holiday. (this was after few months of 2014 had passed)
While many students find balancing board exams preparation and entrance exam preparation tough, Ankur managed to sail his way through. He admits to spending more time on preparing for CLAT. Having opted for humanities after class 10 helped him focusing on entrance exam preparation.
The time devoted for CLAT preparation was more than what was spent on school preparation. I had humanities and so it became easy to balance the school workload with CLAT prep.
How Did Ankur Prepare For CLAT
Common Law Admission Test consists of five sections namely English including comprehension, General knowledge and current affairs, Elementary mathematics, Legal aptitude, Logical reasoning. Of these, Ankur found mathematics and logical reasoning to be the toughest.
How Ankur cracked sections he found toughest
The subject matter is not tough per se but the amount of time taken to solve those sections was disproportionately high.
I had to solve efficiently and quickly so that in around 45 mins I could solve all the questions with accuracy.
Ankur reiterates the importance of mock tests for cracking CLAT exam. In his view, as in the view of more CLAT toppers, mock tests help one analyse preparation and also be fully prepared for exam day. He says,
Mocks are the most important part. It simulates exam like conditions, gives you a measure to set goals and achieve targets. Analyzing the mocks point out the weaknesses and strengths of all the sections. Giving mocks helps set a time range for each section and the strategy or order in which the sections should be attempted.
Many students are worried that they need to attend coaching classes to get high in CLAT. On whether this is true or not, we asked whether he had taken coaching and their significance.
Yes, I had enrolled myself for two coaching courses. (Career Launcher & AB Tutorials).

I think it is a personal choice whether coaching is needed or not. But in the initial days it puts you in the mode of preparation. It also gives you a platform to discuss doubts and questions.
Success Mantra
Regular practice with proper strategy and time management. This is smart work and this is my success mantra.
We asked Ankur what are the most important topics for CLAT preparation that a CLAT aspirant should focus on. Ankur says that Math is often neglected by CLAT aspirants whereas if they do it well they can easily up their scores. Also, he says that current affairs can be cracked by being organized.
Key Takeaways
Manage time to distribute among all sections.
Focus on mathematics to improve CLAT exam scores. It is easier than some other portions and can help improve scores immensely.
Current affairs seem to be unending. Nevertheless, organized monthly and quarterly approach makes it easy.
Do current affairs on a daily basis and revise it on a monthly basis to prevent the heavy workload in the end.
Tips To Crack CLAT Exam
Mocks
Solving and analysing mocks on a regular basis. Analysis forms an important part because this is what leads to improvement.
Choosing the right questions
There are some questions that are either tough or lengthy and solving those questions also secure 1 mark. Hence, it is better to skip those questions given the time constraints. Focus on accuracy rather than speed.
Reading full newspaper
Reading important articles and editorials brush current affairs, improve reading speed and strengthen vocabulary.
Section-wise tips for CLAT preparation
Most of the sections are such that high scores can be achieved. Maths and GK are high scoring sections. English and Legal depend lot on efficient reading speed.
On Exam Day
After rigorous preparation, comes the day of exam. It is important that all one has learned be put to use in a calm and composed manner. How Ankur went through on the day of exam was like this;
I solved the paper in this order – GK, English, Legal, Logic, Math. I had decided proper time range for each section. One should quickly glance through the paper to see the kind of questions asked and decide accordingly whether the set pattern can be followed or not.
He also said something very insightful about solving questions in the legal section. In order to solve questions in this section correctly, focus only on principle stated. Do not add self-knowledge to arrive at answer.
It is normal to be a bit tensed on exam day. To deal with this, Ankur shares his CLAT exam day experience.
I was a bit tensed on the exam day because the day had come for which I had prepared so much. Mental calm is very important and deep inhaling helped me calm myself on that day. I had faced another problem. My details were fed into the system and just 5 mins before the exam, it stopped working. This added on to the pressurised situation.

The exam began on time and when I saw the paper I felt as if the paper was for me only. I solved the paper with 30 mins to spare and when I got out of the exam hall, I knew that I would secure a good rank.

Be confident on your hard work and practice.
3 Things To Keep In Mind
Practice math and logic questions.
Don't spend too much time on a question in the exam.
Finally, for legal section consider only the given principle. Many people tend to add on self-knowledge and get wrong answers.
Books Suggested By Clat Topper Ankur Singhal For CLAT Preparation
English: The Pearson Guide to CLAT, Wren & Martin (for grammar), Comprehension books by various publishers (including for SAT) and the coaching material.
GK: For static, I used General Knowledge by Arihant. For CA, I read 'The Hindu', Pratiyogita Darpan, and various online websites like gktoday.in
Legal: Universal's Guide to CLAT, past year papers and coaching material.
Logic: Logical Reasoning by RS Aggarwal, Analytical Reasoning by MK Pandey.
Math: Quantitative Aptitude by RS Aggarwal.
CLAT Online Exam
There are a lot of students who are apprehensive about the online (computer based test) pattern. We asked Ankur his opinion on the same.
There is nothing to worry but the experience of solving questions is certainly different from the offline pattern. Usual tendency is to solve math and logic questions within the question paper (next to the question), underlining while reading the English comprehension or marking some questions or parts of questions. These things can't be done in the online version. But online version has its own advantages like marking the questions for review, no requirement of darkening the options, 1 question on screen at a time, reviewing the question paper etc.

Practicing mocks solves this problem and with time and experience, online version seems much easier as compared to the offline one.
Apart from CLAT, Ankur had taken AILET (2016) in which he secured AIR 23 and 111 marks out of 150.
Ankur got All India Rank 3 in CLAT exam in his first attempt. He was expecting a good rank as he had prepared a lot for the exam. Still, AIR 3 took him by surprise.
But I am happy that the target set by my father, that is, getting in top 3 (when we initially began preparing for it) was accomplished.
Future Plans
At the time of this interview, Ankur is studying in National Law School Of India University, Bangalore. He now plans to become either a litigating advocate or join a law firm. This is contingent upon the journey and experience in law school.
Ankur, we wish you tremendous achievements and happy moments such as this throughout your journey of life. May you realize your full potential in whichever road you take upon.
This interview has been compiled by Aglasem correspondent Pranjali Rastogi.
More Topper Interviews
CLAT Preparation Question Papers Sample Papers Syllabus
To get fastest exam alerts and government job alerts in India, join our Telegram channel.