CLAT 2016 saw as many as 45,040 applicants; Kashish Makkar was one of them who secured AIR 04. Kashish has scored 171.5 marks in CLAT in his second attempt. He radically improved his rank from 945 last year to 04 this year. Read the complete interview of Kashish with us as he shares his success and secrets.
| | |
| --- | --- |
| Name | Kashish Makkar |
| School | Nosegay Public School, Srigangangar, Rajasthan |
| Class 12th percentage | 96.00% |
| CLAT Attempt | Second |
| CLAT Score | 171.5 |
| CLAT All India Rank | 04 |
About Kashish Makkar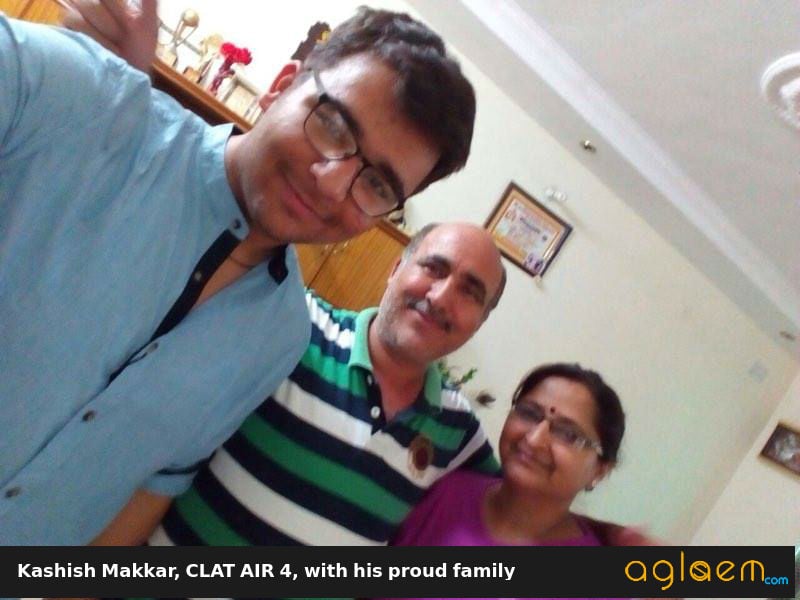 Kashish, an 18-year-old boy, hails from a nuclear family of three living in Rajasthan. Kashish's father is a Real Estate developer and his source of motivation. His mother used to be a teacher but she left her job to facilitate his studies. When asked more about his family, Kashish expressed
My father is a source of motivation and inspiration for me he continuously motivates me with his positive thinking some of the most brilliant thoughts he has shared with me and have almost turned my life around are, Believe in yourself and you will be unstoppable and Whatever the mind can conceive and believe, it can achieve.
Kashish likes to listen to soothing music whenever he gets free time out of his studies. Upon questioned about his inspiration and decision of choosing Law as career, he answered
I chose Law as my career option because it had always fascinated me, i had seen my father's friends children taking law and had seen how it had shaped their personality, so it interested me from the very beginning, therefore, I wanted to make my career into it.
Preparation
Kashish got admitted to NLU Patiala on the basis of his CLAT 2015 score. But, he was craving for more, his dream college NLU Bangalore. It takes utter dedication to achieve big. Can you imagine giving 16 hours of the day to your goal? Yeah! Kashish did that and a lot more to touch the unforgettable success. When we asked about his preparation, he explained
Apply Now For Best Institutions in India
I started preparing for the CLAT 2016 around October last year and used to study for 8­ – 10 hours a day during the week as i had to attend the college too. On weekends I used to study for 13­-14 hours a day and in the last month before the exam i used to take 4 mock tests a day. Each test took 2 hours and another 2 hours would go into analyzing it. So about 16 hours per day of study were involved in the last month.
While studying at NLU, Kashish used to allot a fixed time to CLAT and managed to continue his normal studies side by side. Most of the students take tuitions for competitive preparation. Despite studying at NLU Patiala, Kashish pushed himself and joined distance preparation programs offered by various institutes. Telling more about the same, he described,
I took coaching classes for CLAT 2015 and in CLAT 2016 i took correspondence from LAW preparation tutorials Jodhpur, Legal Edge and Career launcher. Coaching's necessity depends from person to person. I had guidance from various CLAT teachers during my preparation so it helped a lot. Mock tests are the most important part of the exam it tells you where you stand and how to allot time and improve your speed and efficiency.
Key Tips for CLAT
Read and revise GK daily.
Practice maths daily.
Take a lot of mocks.
Set your time goals for each section.
in the course of studying hard, it is also necessary to stay mentally fit and physically healthy. Kashish came up with his unique idea of shredding the stress. also, ignoring the distractions is a task in itself. he said
I used to take a campus stroll whenever I felt I was in stress and also listened to soothing music in my free time. But I would suggest all the future aspirants never listen to music whenever you are studying and even refrain from using your phones, everything else except your career can wait. I didn't use my Phone for a period of 8 months and even was not active on any social network, so yeah, this is a must.
On Exam Day
The exam day is the most difficult one. To make it worse, all goes in vain if anything goes wrong on the exam day. Kashish shared his strategy for the day of the exam with us.
I was confident in my preparation, i was sure that i will make through the exam and reach my dream college. I didn't become anxious as it leads to performance pressure and stops the best that can come out of you. Be stress free, enjoy the exam, cherish the moments as you rarely get to experience it again.Keep your calm, your head held high and say "I can do it!"
He added his view on the Computer-based Test, saying "No it actually helps you to manage time easily and helps in navigating through questions, it was a factor that led me to success".
Future Plans
Well, what next? Kashish answered the question very confidently, revealing that he sees himself practising Corporate and International Laws in future; particularly in Arbitration and Dispute settlement.
We wish all the best to Kashish for his future journey and excel in his life. Good Luck young chap! from the entire team of Aglasem.
This interview has been compiled by Aglasem correspondent Pranjali Rastogi and edited by Lalit Sharma.
More Topper Interviews
CLAT Preparation Question Papers Sample Papers Syllabus
To get fastest exam alerts and government job alerts in India, join our Telegram channel.