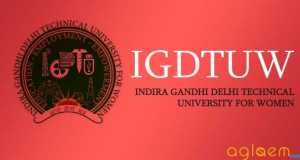 Indira Gandhi Delhi Technical University for Women (IGDTUW) has been established by the Govt. of Delhi in May 2013 vide Delhi State Legislature Act 9, 2012, as a non affiliating teaching and research University at Delhi to facilitate and promote studies, research, technology, innovation, incubation and extension work in emerging areas of professional education among women, with focus on engineering,technology, applied sciences, management and its allied areas with the objective to achieve excellence in these and related fields The University has excellent placement record due to growing demand of women engineers in our country.
Spot Round Admission for IGDTUW M.Tech / MCA 2016 has been postponed to 06 Aug 2016. Spot Round Application Form is available. Check Here
Schedule & List of candidates called for Second Counseling for IGDTUW MCA Admission 2016 has been published. Check Here
List of candidates called for Interview & Interview Schedule for IGDTUW PhD Admission 2016 has been published. Check below
IGDTUW Admission 2016
Revised Schedule for IGDTUW Admission 2016 is given below.
Quick Links
Course Wise Admission Information
IGDTUW Ph.D Admission Interview
This is to inform all the applicants who have applied for Ph.D. Program 2016 at Indira Gandhi Delhi Technical University for Women, that RAT Examination would not be conducted this year and the admissions to Ph.D Program 2016 shall be on the basis of interview. IGDTUW has released the list of candidates who have been called for Interview. Candidates can check the list using the direct link below.
Check list of candidates called for Interview
Schedule for IGDTUW Ph.D Interview
Documents required at the time interview for Ph D program 1
Two copies of the Printout of PDF application form generated at the time of applying, duly signed by the applicant along with two passport size photographs.
Receipt of application fee of Rs. 750/- paid by the candidate.
Original & Self attested copy of Identity Proof(Passport / Aadhar card / Driving license/Voter ID/ PAN card)
Original and self attested copy of GATE Score card / JRF scorecard/ NET scorecard (whichever is applicable).
Original and self attested copy of Mark sheets and Degree of class 12th , UG and PG examination. In case of result awaited applicant, original and self attested copy of the pre- final year/semester (whichever applicable) would be required.
Original and self attested copy of class 10th certificate/ Mark-sheet in support of Date of Birth.
Proof of CGPA/FGPA conversion to Percentage (if applicable).
Original and self attested copy of Caste/ Category certificate (for the reserved categories only) issued by one of the following authorities of competent jurisdiction:

District Magistrate/ Additional District Magistrate/ Deputy Collector/ 1st Class Stipendiary Magistrate/ Commissioner City Magistrate (not Department Interview Date Time ASH (Physics, Chemistry, Mathematics) 15th July, 2016 9:30 am onwards MAE 18 th July, 2016 9:30 am onwards ECE 19 July, 2016 9:30 am onwards CSE, IT, CA 20th July, 2016 9:30 am onwards below the rank of 1st class stipendiary Magistrate)/ Executive Magistrate/ Extra Assistant.
Chief Presidency Magistrate/ Additional Chief Presidency Magistrate/ Presidency Magistrate.
Revenue Officer not below the rank of Tehsildar.
Administrator/ Secretary to Administration/ Development Officer. (Lakshadweep and Minicoy Islands)

Certificates at Annexure for Physically Challenged (PH) Candidates: A candidate seeking admission under the physically challenged (PH) category is required to bring original and photo copy of the certificate of Physical Disability issued by Chief Medical Officer of a district/ civil surgeon or any Government Hospital authorized to issue such certificates under the provisions of PWD Act 1995.
In case of Part-Time Ph.D Applicants Work Experience Certificate from the Employer in original. No applicant would be allowed to appear for the interview without the Work Experience Certificate in original.
Affidavit (In case of change of name after marriage).
Certificate of Financial Assistance(if Applicable)
IGDTUW Application Form
The e-brochure may be downloaded from the website and application can be filled on line by submitting the fee amounting to Rs. 750/- (Seven Hundred Fifty only).
For Eligibility Criteria and Reservations please Click Here
IGDTUW Admission Process
Admission to B.Tech Programs is based on Merit of the All India Overall Rank prepared by CBSE giving 40% weightage (suitably normalized) to class XII (or equivalent examination) or other qualifying examination marks and 60% to the performance in JEE Main Examination Paper-1. Through JAC online counseling.
Admission to B.Arch Programs is based on All India Rank prepared by CBSE in JEE Main 2016 (Paper – 2) examination and also the candidate must have declared eligible for Central Counseling by the CBSE. Through JAC online counseling
Admission to M.Tech Programs (i) For M.Tech Regular Program Admission shall be based on Merit of the valid GATE Score secured by candidates and thereafter on the basis of the marks secured in the qualifying examination as per the eligibility condition (ii) For M .Tech (part-time) Program shall be based on Merit of the marks obtained in the qualifying examination. Preference would be given to candidates having a valid GATE Score.
Admission to MCA program shall be done On the basis of the merit of the marks/rank secured by the candidates in the entrance examination NIMCET
Admission to Ph.D. Program shall be on the basis of Written test (RAT) or interview or both. Regular faculty of IGDTUW and NET qualified candidates are exempted.
Courses Offered, Duration & Intake
Indira Gandhi Delhi Technical University for Women B.Tech; M.Tech; MCA and Ph.D courses in different streams. Details of Courses, Duration and Intake is given below.
Department
Course
Seats
Duration

Information Technology (IT)

B.Tech (IT)
75
4
M.Tech (Information Security and Management)
30
2
MCA
60
3
M.Tech (ICT) part time
40
3

Electronics & Communication Engineering (ECE)

B.Tech (ECE)
75
4
M.Tech (VLSI Design)
30
2

Computer Science & Engineering (CSE)

B.Tech (CSE)
75
4
M.Tech (Mobile & Pervasive Computing)
30
2

Mechanical & Automation Engineering (MAE)

B.Tech (MAE)
75
4
M.Tech (Robotics & Automation)
30
2
Architecture & Planning
B.Arch
40
5
All Departments
Ph.D
25 -35
–
Fee Structure
Course
Type of Fee
Tuition
Student Welfare
Security
Total
B. Tech
65,000
5,000
5,000
75,000
M. Tech (Full Time)
65,000
5,000
5,000
75,000
M. Tech (Part Time)
80,000
–
5,000
85,000
MCA
65,000
5,000
5,000
75,000
Ph. D.
25,000
–
30,000
30,000
B.Arch
80,000
5,000
30,000
90,000
Contact
All correspondence related to IGDTUW PG / Ph.D Admission should be addressed to: Admission Officer (PG/Ph.D Programmes), IGDTUW, Kashmere Gate, New Delhi –110006.
Helpline no. 011-23900204 will be functional during online application process on each working day from 09.00AM to 05.00PM
The application number printed on the computer generated Acknowledgement Page must be mentioned in all such correspondences. It is therefore essential to note down the application number printed on the Acknowledgement Page
Help Desk:
For M.Tech admission: mtechadmission@igdtuw.ac.in 01123900228
For MCA admission: mcaadmission@igdtuw.ac.in 01123900203
For Ph.D admission: phdadmission@igdtuw.ac.in 01123900274
If you have any queries, please ask in comments below.
Click Here for All Delhi Admissions
If you have any query regarding this topic please post your queries HERE