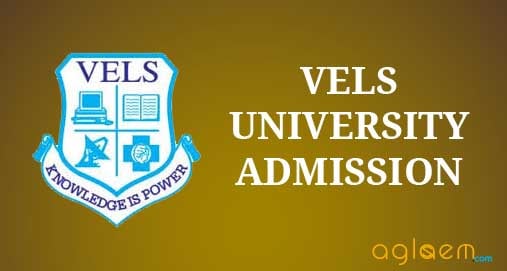 Vels University has released notification for admission into various courses for the academic year 2018-2019. All the candidates who are eligible are eligible to apply online from here. Candidates can check the complete information of Vels University Chennai Admission 2018 like application process, eligibility criteria and other instruction through this page below.
The Vels University Chennai offers courses in Engineering, Maritime studies, Management studies & Commerce, Pharmaceutical Science, Life Sciences, mass Communication, Languages, Computing Sciences, Physiotherapy, Hotel Management, Basic Sciences, Law, Ocean Engineering, Education, Music & Fine Arts, Aviation & Research. The details information of Course offered, Application Procedure, Eligibility of Vels University Chennai Admission 2018 given below on this page.
Latest: Date of Entrance exam of Vels University has been changed to May 13, 2018. Earlier it was May 30, 2018.
Vels University Chennai Admission 2018
All the activities for the Vels University Chennai Admission 2018 shall take place as per the schedule provided below.
Event
Dates
Last Date to Apply Online
30 Apr 2018
Date of Vels Entrance Test (for Professional courses)
30 May 2018 
13 May 2018
Vels University Chennai Application Form 2018
Prospectus and Application form for various course can be obtained by paying relevant cost from the office of the Registrar, Vels University or from the City Administrative Office (Nandanan), Application Form can also be downloaded from the website and submitted online.
For all the Professional courses admission are based on marks scored in the Entrance Examination and the qualifying examinations.
How to Apply Online?
Fill out the application form with accurate information.
All fields marked with an asterisk (*) is mandatory to submit your application.
Please ensure to use a correct email address and contact no. This also allows us to contact you via email with important updates, wherever necessary.
Once your application form is duly filled, your account is automatically created. Your email ID will be your username.
You can login to your account as many times as needed to continue or modify your application within 30 days.
A payment to be made toward the application fee can be made using the following methods :

Pay online directly by using your debit/credit cards or net banking
Pay by DD favouring 'Vels University payable at Chennai' and addressed to "The Registrar, Vels University, Velan Nagar, P.V. Vaithialingam Road, Pallavaram, Chennai – 600 117".

Your application will be processed once we have received your application fee.
If you want to apply for more than 1 course, then pls fill up the application form a second time and follow the same steps as above.
If you have questions about the application process, please call 0 7305 111 222.
For any other queries please send an email to [email protected]
Submission of Application Form
The last date for receipt of complete application forms at the University Office is the tenth day from the date publication of the results of the qualifying examination for UG Course (Tamil Nadu Higher Secondary Examination) and 15 days after the publication of the results of Under Graduate for PG course.
Application Forms will be received even after the stipulated last date. Such applications will be registered as "Late Applications" and will be considered only after all the applications received on time have been processed.
All the application duly filled – in along with the Registration fee should be send either by Registered Post or can be handed over in person at the University Office and should have the enclosures mention in brochure.
Courses Offered, Fee Structure & Eligibility
The courses offered, fee structure and eligibility for getting admission in Vels University Chennai 2018 is as follows:
Admission Procedure
Admissions to various academic programmes are organised on all India basis
Advertisement in leading dailies
Application and Prospectus – direct sales and through website
Registration of candidates in eligible courses
Preparation of Rank list and checking eligibility (Departments concerned)
Medical Examinations (Maritime Studies)
Provisional selection based on the basis of merit (as per Central Govt. reservation norms) irrespective of region, caste, creed or sex.
Interview cards sent to applicants
Issue of admission cards and payment of fees
For the all the Professional courses admissions are based on marks scored in entrance examination and qualifying examinations.
General Rules
Students should not leave the University premises during class hours without written permission of the HOD / Competent authority.
Students should be punctual in attending classes and other co-curricular and extra-curricular activities. Late comers will not be allowed in the class.
Students will be responsible for all equipment entrusted to them. Students should not cause any damage to any property, equipment, instruments, tools etc., of the University. An amount of Rs.150 towards General maintenance, is payable by each Student at the end of the Academic Year, prior to Examinations. In case of any damage, the actual cost will be recovered from the student along with a fine.
Students should take care of their belongings while within the campus. The University will not be responsible for any loss of such belongings.
Use of Mobile phones, Pagers, Cameras, etc., are prohibited inside the campus, during College hours, from 10am to 4pm. If found in contravention, they will be confiscated.
Smoking and consumption of pan is prohibited inside the campus. Consumption of any intoxicants or drugs are totally prohibited, and will lead to immediate dismissal from the University.
Weapons must not be brought into, or kept, within the campus.
Students should display their Identity Card prominently, while they are within the campus and while travelling in the University bus. The security staff will not permit any student inside the campus without their identity card.
All Students should dress in a presentable manner. T-shirts and sleeveless dresses are not permitted. Jeans, of a decent nature only, are permitted.
The management reserves the right to modify the class timings and schedule.
Students should not hold any meetings or collect any money from other students without proper permission from the HOD.
Students should not involve themselves in any political or religious activity inside the Campus.
Ragging in any form is totally banned and is punishable as per the Government Order. If any student is found to be indulging in any sort of ragging or harassment to juniors or other fellow students, inside or outside the campus, bus, hostel, he/she will be dismissed immediately from the University, and criminal action will be taken against them as per the rules.
The following acts of misconduct will result in immediate dismissal from the University:

Assault of any person
Wilful damage to University property
Intimidation, coercion and/or interference with other students
Misbehaviour with other students and/or Staff

The decision of the Vice-Chancellor is final and binding on all the students, in all matters pertaining to the University.
Legal disputes, if any, are subject to the jurisdiction of Courts at Chennai.
All other rules, regulations and guidelines prescribed by University / Government agencies will be implemented.
Official Website: www.velsuniv.ac.in
For more details of Vels University Chennai Admission 2018 – Download Information Brochure.