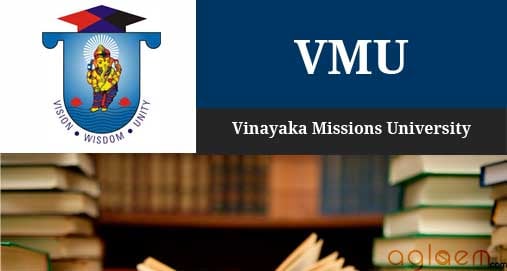 Vinayaka Missions University formerly Vinayaka Mission's Research Foundation is a higher education institution based in Salem, Tamil Nadu, India. Wikipedia
LPU Application Form 2019 - Apply Now!!
Vinayaka Missions University (VMU) Admission
Vinayaka Missions University (VMU) Entrance
More About VMU
Vinayaka Missions had its inception in the year 1981 with the establishment of the Thirumuruga Kirupananda Variyar Thavathiru Sundara Swamigal (TKVTSS) Medical Educational and Charitable Trust. Not far from then, in 1982, the Founder-Chairman, Dr. A Shanmugasundaram instituted the Vinayaka Mission's College of Pharmacy in Salem, the pioneer institution of Vinayaka Missions. In the year 2001 the "University" status was conferred on Vinayaka Missions by The Ministry of Human Resources Development, Government of India, with the recommendations of the UGC (Established Under Section 3 of the UGC Act, 1956) as an acknowledgement of its excellence, satisfaction of the highest level of academic standards and best infrastructural facilities provided to achieve preeminence in education and by virtue of this recognition Vinayaka Missions trascended to becoming Vinayaka Mission's University (VMU) as the 48th University in India.